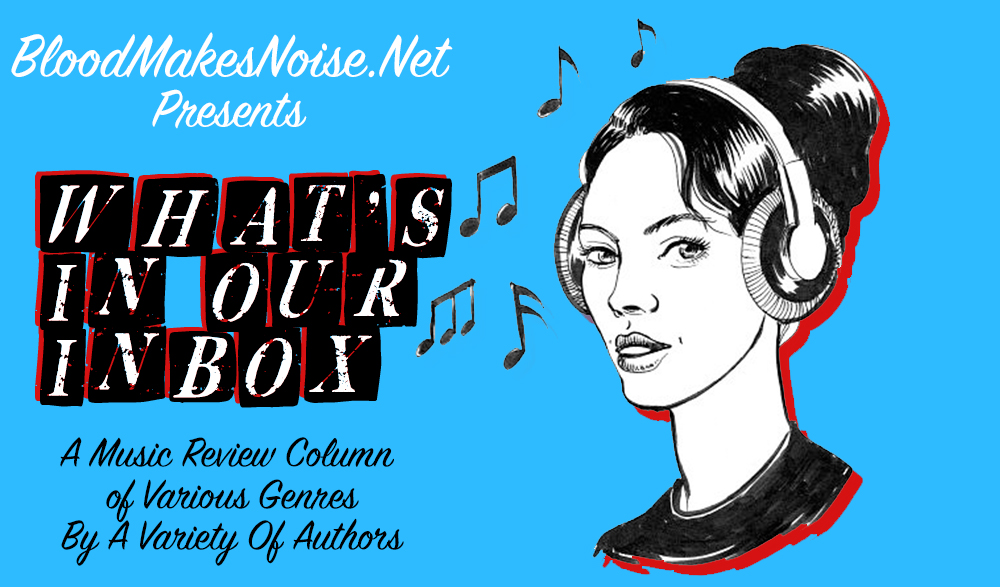 Our inbox is over flowing again so we are letting you good people know exactly what is new and available out there in the music world.  This week a great mix of bands but unfortunately for the gentlemen on the list, the ladies kicked your asses from Lauren Lakis' dark shoegaze to Renee Maskin's indie folk gem. It's all pretty fun though, so no worries, enjoy todays list.  If you want to see your band on one of these lists, send us streaming music and as short bio. 

Band Name: The JV Team
BMN Score: 7.9/10
What the band says they sound like: With just a fence between them, the neighbors used the lockdown time to tap into their musical influences from Mick Ronson era Bowie, indie rock stalwarts Guided by Voices and Pavement, and a sprinkling of Seattle grunge melodic mayhem.  Rich harmonies enhance tracks summoning sounds of Big Star, Beach Boys and The Beatles.  The album also features loads of sound experimentation - hypnotic stratospheric guitars, innovative mind bending slide play, and sweet symphonic strings.  The risk taking and devotion to craft is evident in the construction of well balanced, memorable compositions.  It builds on the talents of Kapeghian's spectacular spacey sonic sounds cemented by Caputo's power pop magnetic melody songwriting.   It ain't the Varsity…but the JV team will always out work the rest - a covid collab that will last the ages!
What we say they sound like: So I feel like we are becoming experts on band member Van Kapeghian as we have reviewed his other projects The Fondaleros and Furious Ball. I like this project and although we only get a little taste of it you can hear that the people writing the music know what they are doing and are far from amateurs. The vocals are kind of washy and have a very far away quality to them with backing vocals sitting almost as loud in the mix as the main vocal. For me the song is a great song but suffers from low quality recording and the sudden drop from a song I was getting into that all of the sudden is in an outro strings part. I'd have to hear the rest of the album to know why this ended up the single as it feels like kind of just an interesting outro. Either way for a covid collab it's pretty great. 
Song to add to your playlist: The Great Before 

  
Band Name: Lauren Lakis
BMN Score: 9.9/10
What the band says they sound like: A child of Baltimore, Lauren grew to embrace the fatalistic spirit of the city in her work and art. With stunningly raw, haunting tones
What we say they sound like: If you enjoy dark shoegaze and the 90's you are going to absolutely love this. It feels like if Smashing Pumpkins got together with Nine Inch Nails and Mazzy Star to write a slow churning heavy shoegaze track. The vocal quality to me at times also has a Juliana Hatfield feel to it. Musically it's interesting too as it plays with dynamics and doesn't get as droney as traditional shoegaze. This at moments feels almost heavy like Deftones in the rhythm section beut because the guitars are sparse and piano also paints the background it never quite gets that heavy overall as distortion guitars are pushed pretty far back in the mix and washed in reverb. Solid track!
Song to add to your playlist: Take My Hand
Band Name: Renee Maskin
BMN Score: 9.8/10
What the band says they sound like: Love it, hate it, or indifferent, it's hard to escape Valentine's Day. Maskin's song echoes the feeling, "All washed out in the fray, walking alone on Valentine's Day". It plays a little like Morrisey's "Every Day Is Like Sunday". The lyrics have a darkness, but also a subtle humor.  And there is a sweetness in the delivery that wraps the whole song in a serene, pop bow.
What we say they sound like: Renee Maskin is a scene veteran in Asbury Park NJ's indie folk scene and songs like this that just kind of pop up out of nowhere is the reason why she is so well respected in the NJ music community. Maskin premiered this track in February and we liked it so much we had to write about it. Her modern Americana aesthetic is unmistakeable and her smokey smooth voice stands so far apart from her peers because of it's uniqueness. This track really showcases her songwriting skills as it feels like this track is timeless and has always been a Valentine's Day staple although it was just released. You ever hear a song and just wonder what it was like before that song existed and was out there in the world? It's such a sweet and short musical gesture and feels like it will be on many a Valentine's Day playlist for years to come. 
Song to add to your playlist: Valentine's Day
Band Name: Collapsing Scenery
BMN Score: 7.9/10
What the band says they sound like: "'The Right to Life' was written after a couple years of observing various unhinged responses to the pandemic and its societal impact, in particular an essay by RR Reno which contemptuously accused the liberal left of being consumed by a pathetic, Godless fear of death, manifested in support for lockdowns, social distancing and masks. This argument (screed, really) was all the more head-spinning coming from a conservative Catholic, who otherwise drones on endlessly about fostering a 'culture of life.' To quote another Catholic, the great GK Chesterton, 'When a man believes that any stick will do, he at once picks up a boomerang.'
What we say they sound like: The intro to this track and musically this song is so right up my alley until the vocals kick in. The vocals are fine, it's just a little bit of pet peeve of mine when vocalists sing along with the melody lines that an instrument is playing. Again musically this great and I really enjoy it, I'd have to hear more before I rush to judgement on the vocals just because maybe there are better melodies in other tracks. Aesthetically I also really love what they did with the video. 
Song to add to your playlist: The Right To Life
Band Name: Bury Mia
BMN Score: 7.5/10
What the band says they sound like: "The single "Car Warranty" (as we've come to call it in short) stems from a period of mental instability. It comes from the part of the day where you're beaten down and everything starts to lull, when you start to think a little more freely. You use your imagination, seeing things in otherwise plain backgrounds, hence the "stare straight at the wall and watch the ships sail towards the sun." It's trying to see light in what can almost feel like an unending darkness. And yet knowing that there is always hope. No matter what, never giving up on trying to find the "blue sky."
What we say they sound like: This first of all this gets points for the title of the song, it's the most pop punk title you could possibly have in the year 2023. The music also for being a little cliche and rehashed is really well done. I mean I can name a bunch of bands from that era from All American Rejects to Rise Against and this has a little bit of all of that.  Like yeah we've heard this style a hundred times before and it sounds very early 2000's but when you write a great song, that's just it, you wrote a great song and all of that doesn't matter. This will get people at a show excited and moving, so I can't complain at all about that. 
Song to add to your playlist: We've Been Trying To Reach You About Your Car's Extended WarrantyWe've Been Trying To Reach You About Your Car's Extended WarrantyWe've Been Trying To Reach You About Your Car's Extended Warranty