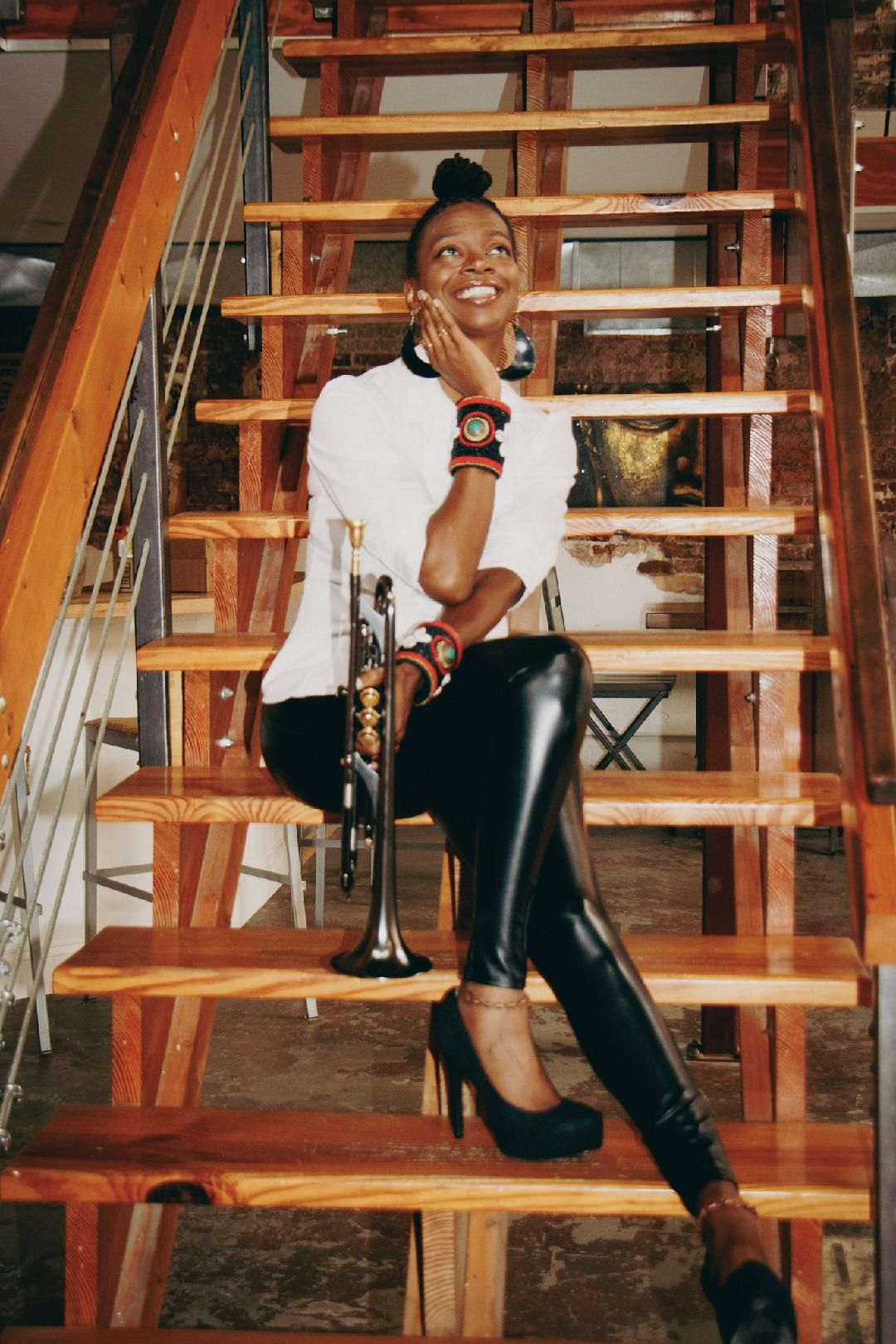 Tiffany Goode hails from Atlanta, Georgia and she began playing the instrument she is known for since the age of 10. She follows in the footsteps of legends like Freddie Hubbard, Miles Davis and others playing the Trumpet but she does it a little bit differently. Tiffany's music is a unique blend of modern samples and electronic drums mixed a haunting often reverbed laced melody line that can only be described as something like a ghost trumpet. Almost as if it is sampled from some classic jazz recording and placed lovingly over contemporary R&B or pop music. Tiffany is one of the newest artists on Mint 400 Records exciting jazz sub-label Raining Music and she is releasing her new EP "12 17" on May 6th 2022. We caught up with Tiffany and here's what she had to say: 
Did you start in any other projects before you went solo? 
I played with and still play with several bands/ensembles. I play with Orchestra Noir an all African-American Orchestra based in Atlanta and I preciously played in an all female reggae group called, Sol Rizing. I have composed and played music for film and television including Joy Road, Every Scar and Dimple, Break/Fast and most recently "Spring and 3rd," which is currently airing on Tubi. I have also created original music scores for dance productions and for other artists.  
Tell us about your previous solo records? 
Tiffany released her Debut album "Today Was A Goode Day" April 17th, 2020 under her independent label "Goode Stuff Entertainment Records." "Today Was A Goode Day" has been the number one album on Bandcamp in Atlanta for Modern Jazz for over 41 weeks. It held the overall number one jazz album in Atlanta consistently on Bandcamp for 19 weeks. It held the #1 Fusion Jazz album position consistently for 21 weeks on Bandcamp in Atlanta. The album has had the privilege of topping out on the National Bandcamp charts at the #3 spot for Modern Jazz and the #10 spot for all Jazz. "Today Was A Goode Day" was only surpassed by Tiffany's second release "EnterGoodeLactic" which was released on February 5th, 2021. "Today Was A Goode Day" has resumes it's #1 Modern Jazz spot on Bandcamp for Atlanta and has now been at this position for over a year.
Tiffany was kind enough to share with us just a little bit of what inspires her:
What is different with this new EP? 
I love all my babies, but I love them all for different reasons. "1217" gives you a glimpse into the other sides of me and some of the other influences. Being from Richmond, VA, we received music from a lot of different places and college expanded upon my musical palette. One of the things I adore doing with jazz is combining it with other genres. This album gives you some ultra modern cinematic jazz feels, acid jazz, Old School Atlanta skate night and funk. Its a Modern Jazz album that I hope appeals to not just the traditional jazz scene, but that it also appeals to people who aren't necessarily into jazz.  
What is the Atlanta jazz scene like? 
The jazz scene in atlanta is Robust. Atlanta as you may imagine is full of musicians. The scene has changed a bit as spots have closed or changed. You can guarantee for every Spot that closes another opens. We have incredible people like Lil John Roberts, Rhonda Thomas, Russell Gunn, Dionne Farris, OK Cello and Julie Dexter. 
How did you hook up with Mint 400 Records/ Raining Music?  
I met Mint 400/Raining Music through ReverbNation. I applied and was selected as an Artist. Neil and I spoke and he was very professional and willing to make me comfortable in our partnership. I am excited for the partnership and an hoping to achieve some spectacular things with this release. 
Who are your favorite Trumpet players of all time?  
My favorite trumpet players of all time are Freddie Hubbard, Miles Davis, Louis Armstrong, Dizzy Gillespie, Roy Hargrove, Clora Bryant, Dolly Jones, Cynthia Robinson, Valaida Snow and Chuck Mangione. 
Who are your favorite peer musicians to play with or see?  
I enjoy playing with my band "The Goode Stuff Experience," which includes Isaiah Floyd and Sen Taiya. I love playing with Rhonda Thomas, Pamela Best, Jason Pure, Chrystal Doomes, Cleveland Jones, Liza Garza and Eli Lakes. 
Track Premiere: Tiffany Goode "333 Dreams"
- Sam Lowry