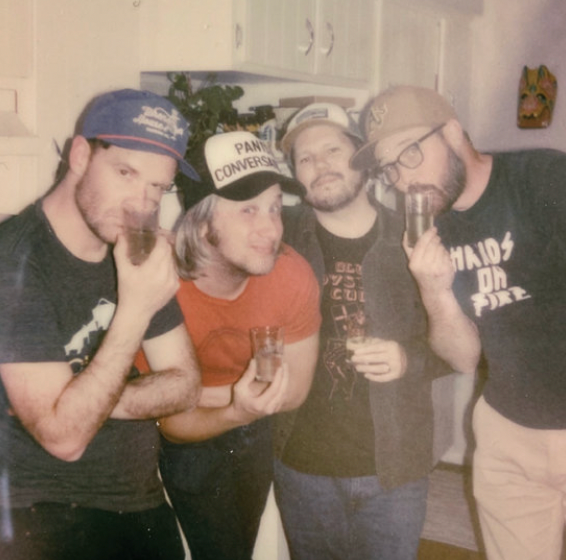 For their debut studio album, Phoenix-based foursome KITIMOTO has made an undeniably grand entrance by blending classic indie rock with inflections of surf, punk and psychedelia on Vintage Smell. 
Within its 10 tracks, Vintage Smell makes short work of revealing a group wise beyond its years. The album boldly covers a lot of ground, showcasing the members' songwriting chops and highlighting their musical range as veterans of the industry. 
Despite KITIMOTO being a relatively new formation, its members met via the Phoenix DIY art-punk scene more than 15 years ago and have each independently had their hands in on top-tier indie projects for decades. 
With bandleader Jon Douglas (A Technicolor Yawn) at the helm, supported by guitarist Jason P. Woodbury (Aquarium Drunkard), bassist Zane Gillum and drummer Cavan Noone – the quartet took to Oracle Recording at the famed Rancho Linda Vista in late 2020 to lay down the tracks inspired by the archives of frontman Douglas's songbook. 
Vintage Smell spans a wide range genre-wise, citing inspiration from indie darlings like Parquet Courts, Built to Spill and Pavement, alongside some of the most celebrated names in American rock, like The Velvet Underground.
The album makes a strong entrance, kicking off with the punchy "Bats!" – a rebellious 90s-era punk track that is as fun as it is bold, before cooling it off with the easy, rollicking summer ballad "Mexico." 
We're treated to Pavement-esqe fuzzed-out guitars on "Seventy," while tracks like "Sephamore" easily steer us into psychedelic pop territory by way of the mellotron. 
On "How Do You Keep," KITIMOTO questions righteousness and morality, repeatedly challenging listeners to self-reflect, while veering into surf rock with its sun-bleached riffs. 
Vintage Sound also provides a nearly picture-perfect indie rock track with the apathy-soaked summer anthem "Time Saved." In the era of doomscrolling and dissociation, the lyrics are beautifully on-the-nose, calling out a society on the brink of collapse: 
It takes a lot to give a little 
Everyone is dead 
No one is around 
Everyone can see through one another 
I say, that's time saved 
A more fitting title couldn't exist for an album that so effortlessly melds modern indie music with stylistic callbacks to the eras by which it was inspired. Vintage Smell invokes a particular brand of musical déjà vu – the kind of nostalgic sound that makes you feel as though you might have heard something like it before, despite being an entirely unique experience. 
One can't help but wonder if the studio location's rich history affected the album's outcome, helping to provide the worn-in sound that unifies the tracks into a cohesive work. Like terroir, but for music. Either way, Vintage Smell is the kind of record that makes bands a household name and considering this is their debut, there isn't a doubt KITIMOTO will be just that. 

Overall rating: 8.5/10 
"Bats!" from the forthcoming album Vintage Smell
Available June 24th
Order The Album Here From Fort Lowell Records

Review By Dana English