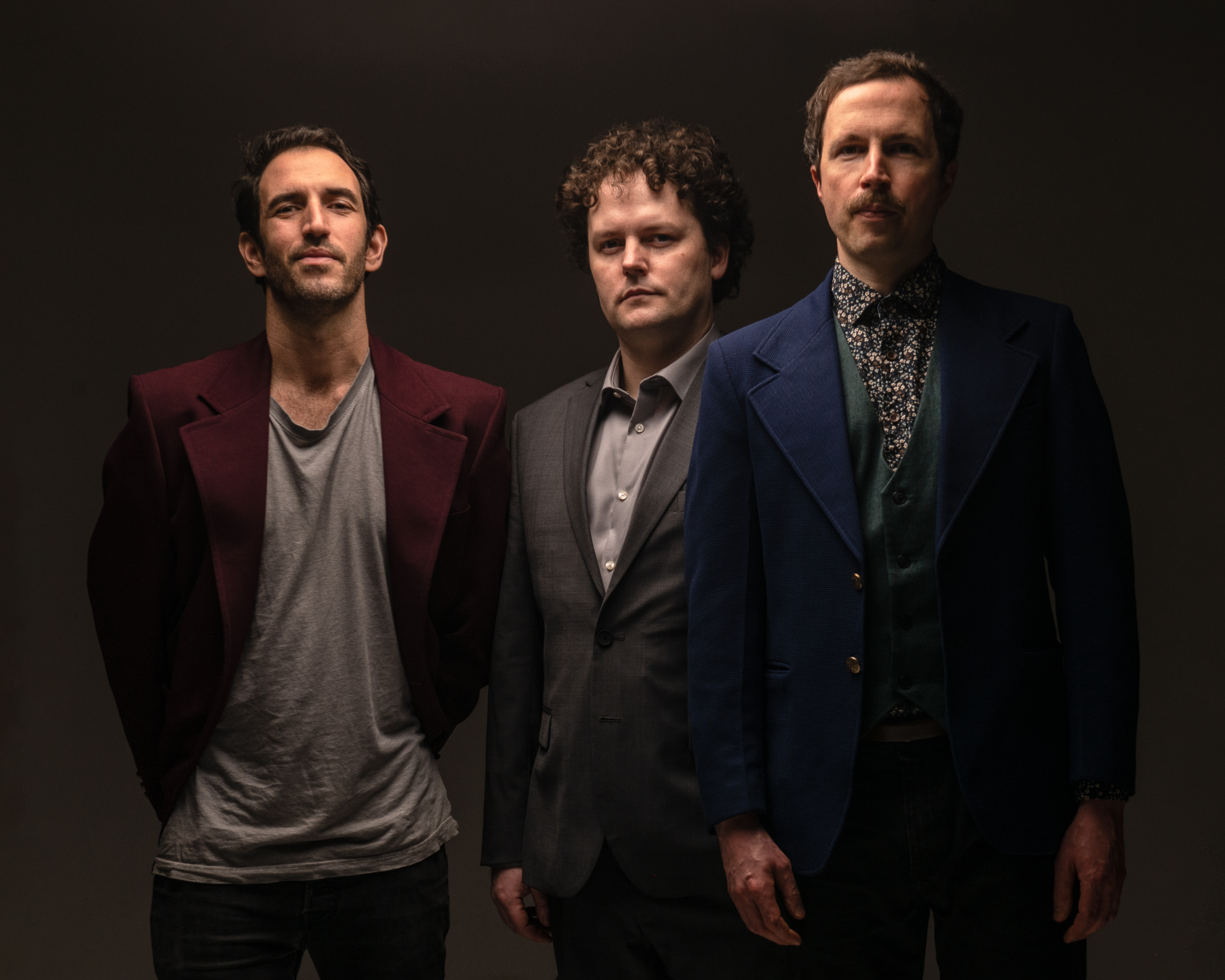 Malleus Trio is a Vancouver-based band comprised of Dominic Conway on tenor saxophone, Geordie Hart on bass and Ben Brown on drums. Casting elements of rock, pop, jazz, avant-garde and more through the prism of a deeply rooted rapport forged over more than a decade together, their strikingly unique sound has taken them to venues across Canada and Europe. 
Malleus Trio's third full-length album, ON/OFF was released on September 22nd, 2023.
1. How did the band form and what does the band name mean?
We first got together in 2007, when we were all attending Vancouver Community College. Right off the bat, there was a special chemistry, a set of mutual instincts, shared musical values that felt unique. A few months later we were offered our first gig and— necessity being the mother of band names—we combed the nearest bookshelf for something to spark our imaginations and found an anatomy textbook. The malleus is one of the trio of bones that conducts sound vibration to the inner ear. The fact that all three work in conjunction with one another and are of equal importance to conducting sound also seemed fitting.
2. Previous musical projects? How'd you first get into music?
We all come from broad musical backgrounds. If anything, formative time spent in rock and/or R&B bands might be the common denominator between us, but past that the roads that led us to here have been wide ranging. Ben is a founding member of Pugs & Crows, and Geordie of The Boom Booms. Dominic is a part of Mary Ancheta Quartet, among other projects.
3. First concert that you ever went to? (Locally and National acts)
"There is a formative and vivid recollection of seeing Little Richard and Jerry Lee Lewis on a double bill at the Pacific Coliseum in the mid 90s. I was changed forever." - Dominic.
4. What's your writing process like?
Collective, organic and exploratory. What we do has always been very rooted in the moment and shared spontaneous discovery. The odd time someone will bring in a formed idea but usually we get together and improvise and from there it's a matter of choosing which ideas to keep caught, to feed and grow, and which to release, maybe to find their way back to us later on.
5. What other artists or songs inspire your music? 
We draw on a pretty wide array of influences. We've been told more than a few times that our music feels cinematic and certainly many of the artists that inspire us posses that quality, such as Portishead,  Tom Waits or Nine Inch Nails. Much of our music is built on groove first and hip-hop has been key influence there. One of the tracks on our new album ON/OFF had the working title "Timbaland" for a long time. As a trio, Duke Ellington's album with Max Roach and Mingus, Money Jungle, has been a touchstone for its balance of refinement and rawness. Deftones' brand of heavy yet catchy catharsis satisfies of late. The rhythmic urgency and playfulness of Maceo Parker's saxophone as well as the singing quality of Carlos Bica's bass have been influences on us as instrumentalists.
6. What's the live experience like and your philosophy on playing live? Do you think the music live should be identical to the recorded version or should it be it's own thing?
The live experience is where we thrive. We take a lot of time and care in the writing process and we're very proud of all three of our albums, but ultimately the songs are funnels for the chemistry and shared musical language we've built over the past 16 years. We've played together long enough to know and trust that what lies outside the lines on any given night can be as rewarding as what we've built inside.
7. Has the band toured? What has the touring experience been, best shows?
We've toured Canada twice, including this summer. In the spring we went over to Europe for the first time. All of it has been immensely rewarding. Going into an unfamiliar place and feeling how our music reacts in a room with fresh sets of ears has taught us a lot about what we create together and how that exists outside of us.
8. What's up next for the band?
Our new album, ON/OFF just came out a couple of weeks ago so we'll be promoting that and planning more of what's next, including shows. Interested parties can follow us on Instagram and Facebook as well as checking out our website, malleustrio.com.