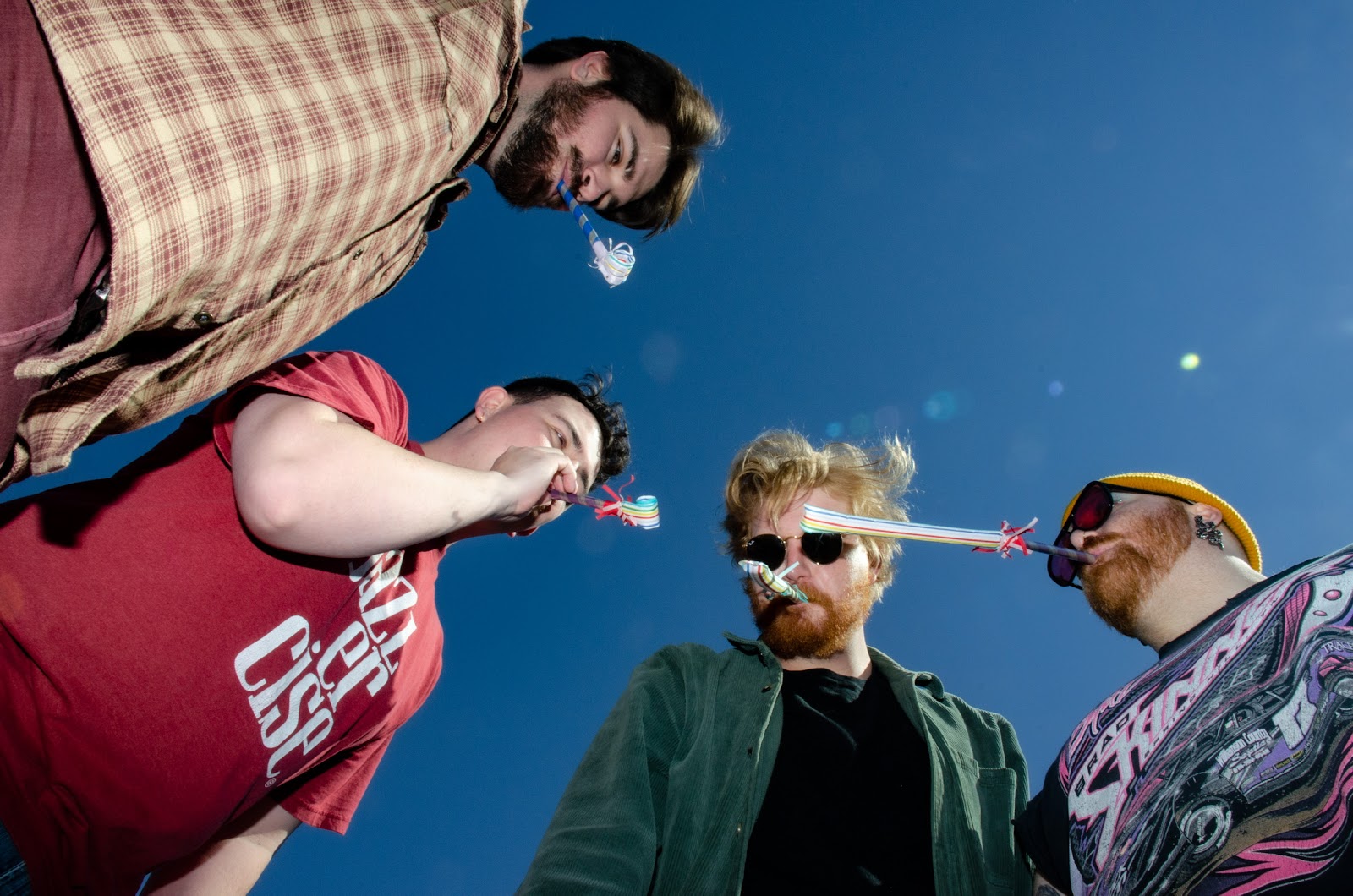 What started as a stripped-down, breezy solo song on Doggy Daycare's debut album
I Love My Friends
has turned into something bigger. A hint of what's to come by the Wilmington, North Carolina group, "(forgetting) sarah marshall" is post-breakup navelgazing in content and fuzzed-out shoegazing in form. It swirls in the realms of My Bloody Valentine and Smashing Pumpkins but glows with its own forlorn Southern bent.
Doggy Daycare started as a bedroom coping mechanism by Adam Bastug. In the process of creating the first batch of songs, lead guitarist Joshua Sullivan, drummer Connor Simpson, and bassist Ethan Jenkins came along to contribute different parts. That solitary project then bloomed into something new. Their signature blend of southern shoegaze, 90s angular indie rock, and unexpected humor quickly established the band as torchbearers of melodic, guitar-driven indie rock.  
How did the band form and what does the band name mean?  

Doggy Daycare started as just a name for the side project I (Adam) was using to put out lo-fi music. I wrote the first Doggy Daycare song while I was sick with COVID in June of 2022. After I wrote a couple, I decided I would go ahead and record a full album. After putting out a couple songs, Josh and I connected over the music and got together to have him record a guitar track on one of the songs. We talked after that session about how much fun it was and how good it felt and Josh was really adamant that the music was good enough to be heard by people. I would say Josh is largely responsible for Doggy Daycare becoming a band, as I don't think I would've had the confidence to put the more intimate songwriting from the first album out for everyone to hear without him telling me it was worth it. The band name is random, but over the years I've tried to name a couple other bands Doggy Daycare. Nobody really vibed with it and it kept getting shelved. So when the time came to name my side project, there was no other option.  

Previous musical projects? How'd you first get into music?

We've all been in bands growing up and learned how to play a variety of instruments from young ages. Josh was involved in the WIlmington music scene almost a decade before the rest of us, playing out with his old band, Villa Verde. He then took a break from music in general to pursue other creative efforts in writing and directing. Connor, Ethan and myself met by playing in a band called Hot Plastic Poets, which was active in the Wilmington scene until recently.  

First concert that you ever went to? (Locally and National acts)

Adam - Switchfoot - House of Blues, Myrtle Beach, SC  
Ethan - Weezer - House of Blues, Myrtle Beach, SC  
Connor - Meatbodies - The Grey Eagle, Asheville, NC  
Josh - Thrice - House of Blues, Myrtle Beach, SC  

What's your writing process like?

Our writing process tends to vary and we like it that way! It keeps things interesting for us and seems to result in a variety of song styles. Our recent single, (forgetting) sarah marshall, was a song that I wrote and recorded for the first album. It was written and recorded in my bedroom at 3:00 AM while I was dealing with a bout of insomnia. The single we just put out was a full-band reimagining of that song. Sometimes our songs start with just lyrics, a vocal melody or a simple guitar part and we write music around that. Other times we just jam around until we find something we like and write around a certain riff or chord progression. There's a song Josh wrote 6 years ago that's going on the record because we all love it. It really does just depend on the song itself, we don't have a set process.  

What other artists or songs inspire your music? (Please talk about the artists you've chosen on your Spotify Playlist that you've given to us)  
  
I think part of the reason we have a unique voice as a band is because we have a unique blend of backgrounds in music and influence. Josh draws a lot of guitar influence from Chavez and angular guitar bands like Pavement. Ethan has been inspired by the bass work of Dismemberment Plan and Parquet Courts. Both of those groups have a variety of bass styles and he's been pulling from them heavily for the album we're recording. Similarly, Connor is really getting into Mannequin Pussy, more than he already was. Though he brings his own unique style to the band, there's definitely traces of their influence mixed in. I am mostly influenced by songwriters like Alex G and Will Toledo of Car Seat Headrest. I connect with them lyrically, but they also construct songs in unique ways. I feel like they rarely do the obvious thing, which is something I sometimes struggle with.  

What's the live experience like and your philosophy on playing live? Do you think the music live should be identical to the recorded version or should it be its own thing?  

We hope that the main takeaway of a Doggy Daycare live show experience is that it's fun, because it's fun for us. Our philosophy is basically to have a good time playing music that we love, so that the people watching us are more likely to have a good time and love the music as well. We smile, we make jokes, we laugh when we mess up. I personally don't like when bands are super serious and broody on stage, unless it fits the genre aesthetic or something. Even so, I like seeing the human side of performers. If you're just trying to keep up a "cool rockstar" persona, that feels fake to me and makes me question whether or not the music itself is authentic as well. I do think that there's something to be said for live versions of songs having a life of their own. In fact, half of our current setlist are songs from our first album that I recorded with an acoustic guitar and a drum machine in my bedroom. The live versions of those songs feel much bigger, because they have to. That lo-fi sound really doesn't generate the same amount of energy as 4x12 cabs and two-tiered pedalboards do. There's also something cathartic about turning a song I wrote while sad and sleep-deprived into a loud, energetic banger.  

Has the band toured? 
We haven't toured yet! But we'd love to! We'd love to tour! Just putting it out there that we'd love to tour! If anyone wants to help us book a tour! We'd love that! Touring, that is.  

What's up next for the band?

In the immediate future, we're finishing up work on our upcoming album and playing some more local shows. We love playing in Wilmington and have really cut our teeth in the area, but hopefully we'll be playing some out of town dates later in the year, possibly touring in the Winter. Our first full-band album will be out after the new year, but we'll be dropping some singles from it between now and then. Otherwise, we're just hanging out and being cool.
 
Doggy Daycare:  
Instagram  
Twitter  
YouTube