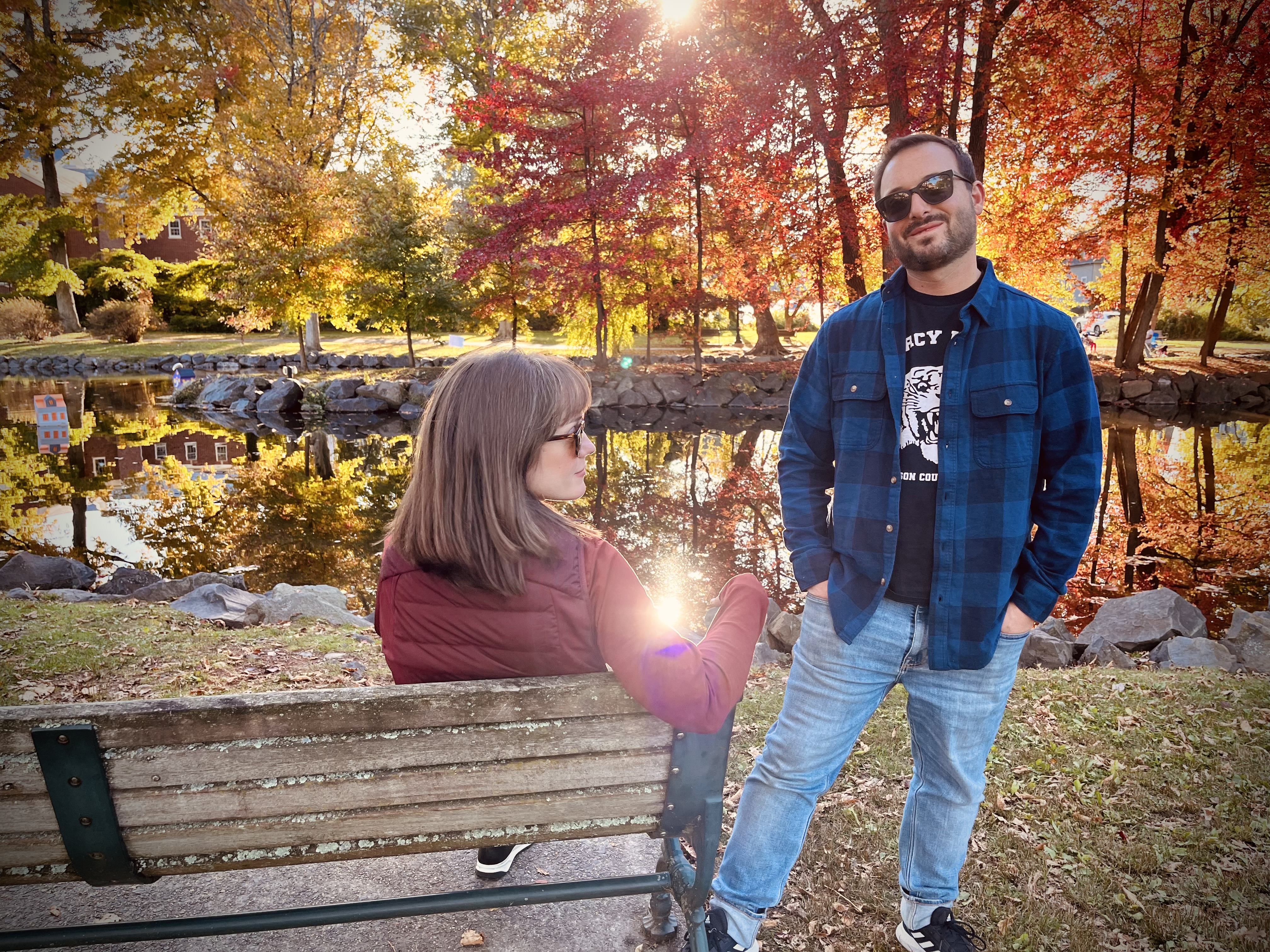 New Jersey indie folk duo Battleviews released their debut album, All of My Days, through their own Bright & Barrow Records.
Battleviews came together in winter 2020, at the height of the COVID-19 pandemic. Married since 2014, the duo never found time to write music together amidst the chaos of work and parenting their two young kids. But during two years of national lockdown, Battleviews became an outlet for Ryan and Natalie: a place where they could retreat after the day's last Zoom meeting was over, online school was finished, and the kids were asleep; a place that they could call their own and had total freedom to explore and create. 
Embracing a DIY approach to home-recording, Ryan bought a few microphones and a second-hand laptop, set up a makeshift studio in the basement and guest shower, and the duo got to work capturing their ideas as they continued to write. Without a clear goal in mind, Battleviews created an introspective indie folk album fusing infectious melodies and harmonies with universal themes such as the love, fun, and hardships that come with parenting; pulling through tragedy; and longing for simpler times. We caught up with the band to ask them more about their roots and formation: 
Previous musical projects? How'd you first get into music? 
Ryan: I've been playing music on and off since middle school, playing in punk bands, ska bands, emo bands, and currently I play bass and sing in a 90s/early 00s cover band. The Foo Fighters' Colour and the Shape is what really got me loving music on a deep level, followed by Metallica, but it wasn't until I discovered Blink-182 and other punk bands that I realized I could write a catchy song with a few simple power chords, and from there it was off the races. 
First concert that you ever went to? 
Ryan: The first concert I distinctly remember going to was the Beach Boys when I was super young. I don't remember the music so much, but I remember the stage had a huge Cadillac back drop with actual headlights, and it was awesome! My first concert of a band I actually really loved was the Goo Goo Dolls at the Cleveland Rib Cook-off, and they were amazing. 
What's your writing process like?
Ryan: "All of My Days" came together super organically. The genesis of the whole project was me sort of passively strumming a simple chords progression on an acoustic guitar and Natalie liked it and started humming a melody over top. I think we both surprised ourselves and just kept going. Before we knew it we have one song, then two, and eventually wound up with ten. This was over quarantine so we were just hanging out the house with our kids. Writing songs together became our little escape from the craziness of it all. I try to pick up a guitar at least a couple times a day and strum some chords…sometimes I come up with something cool, and most of the time I don't. But on those rare occasions when I do, if I'm lucky then a little melody will also arrive with it, or if I'm super lucky then Natalie will grab ahold of what I have and come up with her own melody. Words usually come last, once we have the chords and melody set. 

What other artists or songs inspire your music? 
Ryan: We just put together a playlist called "All of My Faves" which features a bunch of songs that inspired us, in one way or another, during the course of writing and recording our album. You can find the playlist on our Spotify page. The artists I love all just write amazing songs. Usually for me, the more simple the better - just a few chords and a strong melody is really all I need to latch onto something. The songs I chose for the playlist are all amazing for that reason, and they have something unique about them that fed into the creative spirit of "All of My Days," even if I can't pinpoint exactly what that is. 
 What's the live experience like and your philosophy on playing live? Do you think the music live should be identical to the recorded version or should it be it's own thing?
Ryan: We currently have no plans to perform live, but if the right opportunity came along then we'd be open to it. If we were to play live, I think it would be fun to incorporate a full band to make it sound like the record, but at the end of the day it could just be me and Natalie, playing the songs stripped down like we did in our little living room when we wrote them.
What's up next for the band?
Ryan: We're so happy, excited and relieved to finally have "All of My Days" out there in the world! It took a couple years and there were several points throughout the time when I thought that the record would just never get finished, between work, kids, life, and everything else. But now it's finished, out there, and I hope some people find it and enjoy it. As for what's next, we have the skeleton of a new album written, and now we're trying to find the time to flesh that out and record it.