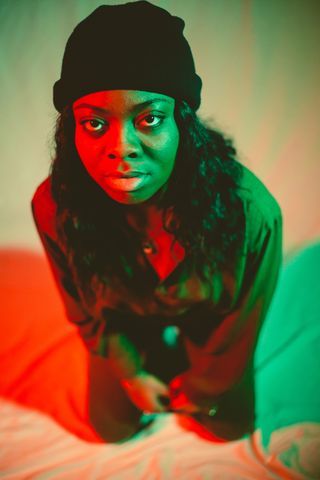 Senseless Optimism, says in her bio she is redefining the role of the singer/songwriter in the modern era. Our own Dana English had this to say about the new EP: "It Gets Better is an infectious five-track mantra of positivity and perseverance willed into existence in musical form. The new EP, released in July, quickly shows that Tsewole is no one-trick pony. While centered in indie pop, It Gets Better incorporates elements of jazz, rock, soul, R&B and psych to make for a positively gargantuan display of versatility and range." We had the chance to sit down with Brittany Tsewole (AKA Senseless Optimism) and ask her how she got her start, what inspires her and what's next!
1. How did the band form and what does the band name mean? 
This project started at the beginning of quarantine, I was in a band at the time, but given the circumstances, I needed to pursue music within the comfort of my bedroom. Then Senseless Optimism was born. 
2. Previous musical projects? How'd you first get into music? 
Most of my start in music was on my own or in casual school bands, it was only once I moved back here when I started my first ever band called The Seawolves while at UMASS Lowell. 
3. First concert that you ever went to?
My first show ever was at this venue called the Tip in Lowell, MA. Unfortunately, given the way the night went, it was all kind of a haze. Nonetheless, was an amazing formative experience. 
4. What's your writing process like? 
These days, it's constantly changing. Sometimes I start on voice memos, sometimes I start writing demos within logic. Sometimes I start on guitar, sometimes I start on bass, sometimes I start on drums. Sometimes the ideas are completely new, other times I pull from unfinished songs. Really it depends on the individual song and what it needs. 
5. What other artists or songs inspire your music? 
Fela Kuti, Mild High Club, Mudhoney, Steve Lacy, Molchat Doma, Alice in Chains, Good Morning, Hether, Khruangbin, and Black Sabbath. All of which are but a small list of great artists that have massively inspired me throughout my musical life. They are somewhat similar yet wildly different... It was hard putting a playlist of all of them together. To pick which artists, and the song! Oh my... 
6. What's the live experience like and your philosophy on playing live? Do you think the music live should be identical to the recorded version or should it be its own thing? 
Parts are feel-good, parts are trancy, but overall, entertaining. This is generally what I've heard from previous audience members. My philosophy playing live is to entrench yourself in the music as much as humanly possible in order for it to resonate with an audience, even on bad days. 
Live music is definitely its own thing. We make sure to keep the most integral parts of a recording, but add jams or change parts up slightly depending on the song. 
7. Has the band toured? What has the touring experience been, best shows? Worst shows? 
We have not toured yet but have played many shows, mostly good. I feel as though our live shows have been getting better and better each time we play. 
8. What's up next for the band? 
Next up is a trippy visualizer coming up for the EP, one more music video which is the wildest yet, and a show at Institute of Contemporary Art on Friday, Aug 19th. A lot of great things in the works too!
Instagram: https://www.instagram.com/somuzique/ 
Facebook: https://www.facebook.com/somuzique