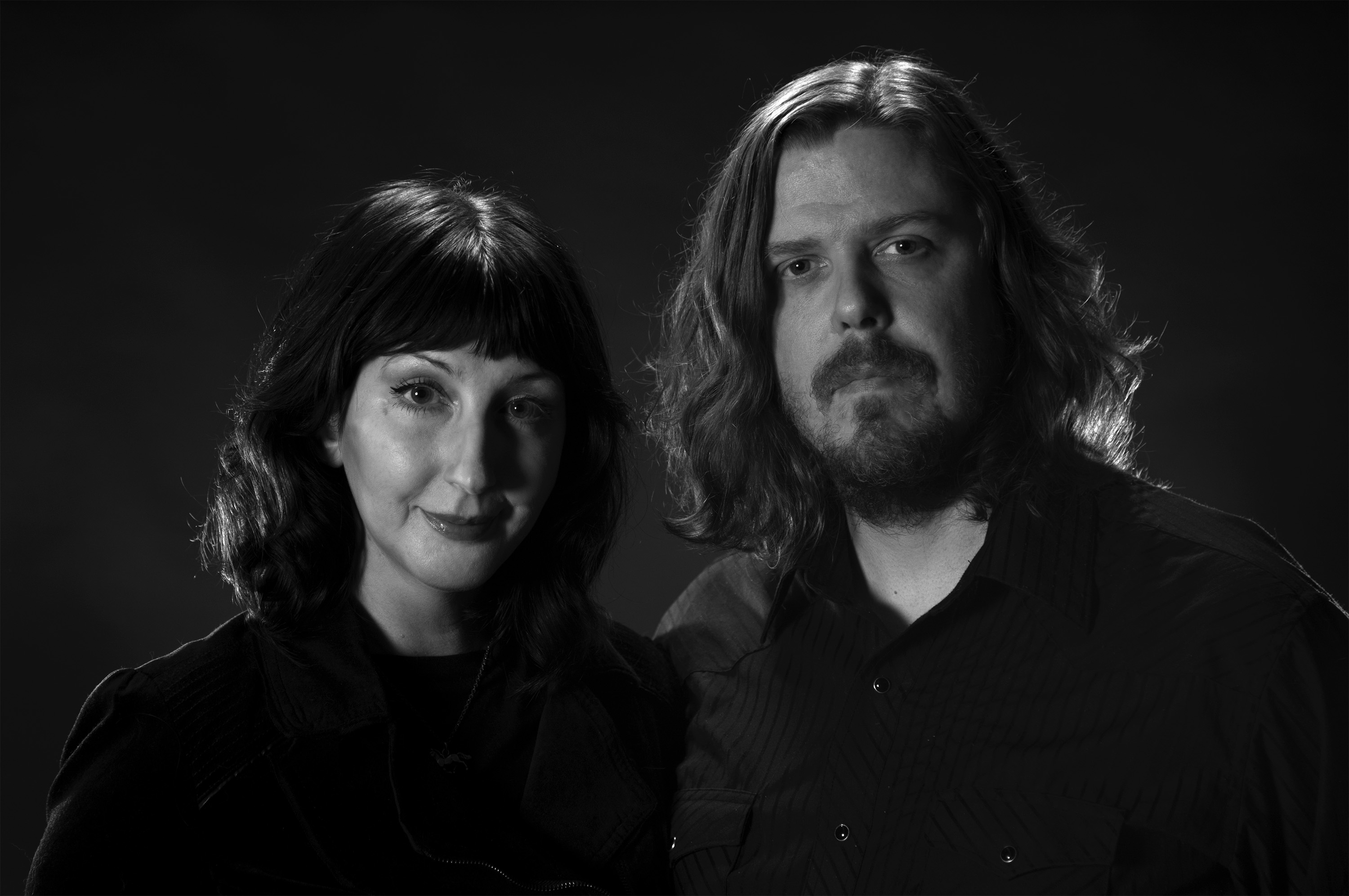 Easy Dreams, a Los Angeles music project of Meredith Meyer and Brandon White has continued to evolve, building in strength and dynamics as their slow burn has built into a steady fire. That has culminated in the creation of Sunformer, the group's debut full-length out this spring. They were introduced to producer Adam Lasus (Yo La Tengo, Helium, Army Navy) through a mutual friend. "When I met with Easy Dreams, I knew we could capture some magic together," Lasus says. "The songs just kind of exploded and blossomed in a very natural way." Easy Dreams comes to us as they are releasing their 2nd album which they consider to be "country-shoegazey-synthy". Here's what they had to say: 
How did the band form?
We met in the world's longest bathroom line at a party. We talked music and discussed trying to write songs together that were country-shoegazey-synthy. We got together a few weeks later over hot toddies and wrote our first song in 10 minutes. We played as a duo until we started writing bigger songs, and then met our band at the bar where Meredith was bartending. 
Kenny Kupers, our drummer, was looking for a new project to play with. The three of us eventually ended up moving back to LA. Kenny called up Pete DiBiasio, who had played bass with him in an LA band called Radars to the Sky, and we just started playing. Everything clicked together.
What are your previous musical projects? How'd you first get into music?
 
Brandon:

 

In NYC, I had a project called Cuss Words which was wild, messy pop. Previously, in my hometown of Baton Rouge I was in a noise band called Wilderness Pangs. I learned music through my Papaw who was an amateur country and gospel multi-instrumentalist, and I used to make weird little synth experiments on my tape recorder and computer.
Meredith: I started a band in NY called Young Unknowns that was kind of post-punk, dancey rock that morphed into more electronic music. I also moonlighted with Brooklyn bands Heliotropes and Backwords. When I lived in LA previously, I had a solo project under my name. 
I grew up in Oklahoma and took piano lessons from a local church organist. When I was 16 I saved up for a guitar. My best friend Carrie taught me 4 chords on it, and I wrote a bunch of songs with those same 4 chords. Then I had to learn more chords. 

First concert that you ever went to? 
Meredith: Willie Nelson, at the Great State Fair of Oklahoma. I think I was around 5 years old. I remember his voice, along with the sweet smell of funnel cakes. 
Brandon: "Denied Existence," which was my friend's older brother's Death Metal band. It was at a goth coffee shop in Baton Rouge. I sat on the floor in front of the stage like a devout convert or something.

Can you explain what your writing process is like?
We write on un-amplified electric guitars. If the songs pop in such a plain setting, then we know we've got something special. Then we bring the song to practice and build it up together with Kenny and Pete.
What other artists or songs inspire your music? 
We have so many influences, but we tried to take a wide sample of artists who do what we admire in genres we love: 
1- Broadcast "I Found the F" 
Meredith:

 

Broadcast is a band I love on every level- Trish Keenan's voice, their kaleidoscope synth sounds, and their abilities to somehow work playfulness into their cool melodies are just unprecedented. 
2- George Clanton "I Been Young"
Brandon: George Clanton is one of my favorite truly independent artists. You get the sense in his music how much he loves to make it and play it for the world. It's a big tent and everyone's invited. 
3- Gene Clark "No Other"
Meredith: This album has an insane story and was largely hated when it was recorded. Some have said it was Gene Clark's downfall. His use of keyboards, guitars, and voices creates some of the most brilliant music I've ever heard, but back then record companies hated their genre rules being broken. It's so far out and beautiful, and I'm with Gene- it's a masterpiece. 
4- The Flying Burrito Brothers "Wheels"
Brandon: The first Flying Burrito Brothers album stopped me in my tracks. Turns out, the music I had been waiting to hear had been waiting for me since 1969. It's like they synthesized the first half of the 20th century and then expressed what they created with these beautiful harmonies.  
5- Sharon Van Etten "Seventeen"
Meredith:

 

Sharon Van Etten has always had a strong voice, but I especially love the direction she went into on

 

Remind me Tomorrow. "Seventeen" just captures a kind of breaking free. I can listen to it over and over, and it never gets old. 
6- Blonde Redhead "23"
Meredith: Blonde Redhead is one of my favorite bands to see live, their energy together is so powerful. I love how Kazu Makino's voice blooms over their driving music, and it's a great example of how two totally different layers can blend together.
7- Mojave 3 "Tomorrow's Taken"
Meredith:

 

Rachel Goswell and Neil Halstead took shoegaze to a whole new level after Slowdive. The lazy twang mixed with those beautiful vocal layers is like swinging on the most beautiful sad porch ever. 
8- Buscabulla "Nydia"
Brandon: Buscabulla are old friends who I had the pleasure of playing some music with back in NYC with Cuss Words. I still don't know how they do what they do. That's as good enough of a definition for magic as anything, for me.
9- Shafiq Husayn "Changes"
Brandon:

 

It's hard to pick a favorite from this album because it's pretty indivisible, but "Changes" just sticks with me. In fact, I've never played it for anyone who didn't like it. So fun, so deep and so experimental. 
10- Nuno Canavarro "[Untitled]"
Brandon:

 

I remember reading about Plux Quba, the album this song is from, back in the early 2000's. It sounded like the most interesting album in the world and I went through a lot of effort to track it down. It came out in 1988, but it could've come out back when I finally tracked it down. Heck, it still could come out

 

tomorrow. Eternally fresh and rewarding. Mysterious but inviting. 
 6. What's the live experience like and your philosophy on playing live? Do you think the music live should be identical to the recorded version or should it be its own thing?
Playing live is about all of us paying close attention to each other, and bringing the audience into the little world we're creating there and then. It's about heightening the energy in the room, and giving the crowd a great night. 
We recorded these songs live as a band together. However, part of the fun of recording is adding all these little extra colors, details and ornaments. So we spent a lot of time working on those with Adam Lasus, our producer. The potentials of recording are unlimited, so in the studio we really enjoyed experimenting, and finding all the hidden dimensions in the songs.

What has your touring experience been, best shows? 
We just had a great 7" release show here for '25 Moons', playing to a full house in Hollywood. Everyone's been so excited to go see live music again, so you could feel the room buzzing. We feel lucky to be a part of that again, and share in that enthusiasm.
Worst shows? 
 
Meredith:

 

In my singer-songwriter days in my 20's, I played a show at a little cabaret bar in Hollywood... to the waiter and the bartender. Nothing like being the background music to a room full of disappointment!
Brandon:

 

My first and worst shows were mostly outdoor things that I had put together with my friends. We knew nothing about electrical grounding so the times I've been lightly electrocuted by a synthesizer or ride cymbal are numerous. 
What's up next for the band?
Our full album

 

Sunformer

 

comes out on May 12 everywhere. We're stoked to finally have it out there so we can play more shows, support other musicians we dig, and see what adventures lie ahead! And writing, always writing.