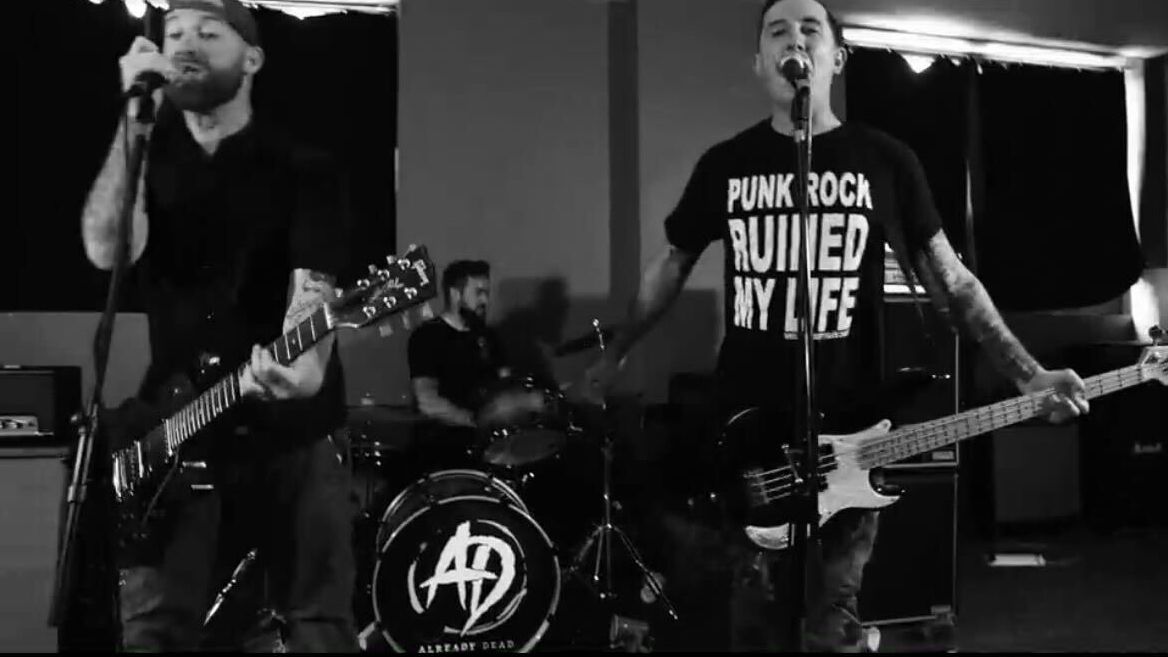 Already Dead is a Massachusetts punk trio that has just released a new single titled "Stability". Lead singer Dan Cummings had this to say about it: "'Stability' is a wanderlust song about chasing a dream or a life while still maintaining the life you've built. It's about the need or desire to go out and pursue something but still knowing where your home is." We asked the band all about their new material and what inspires them, here's what they had to say: 
1. How did the band form and what does the band name mean? 
Dan: The band is a product of Covid times. I play in a couple other bands, usually playing bass guitar. We were gigging pretty regularly before. Then March 2020 hit and all shows were canceled. I started recording some songs I had just to fulfill the need to do SOMETHING musically. I started sending them to Nick Cali, the drummer, as we had played together in a band before. He was into it so we started making demos from there. 
Then, we recorded this album at The Bridge Sound and Stage in Cambridge, MA with engineer Jimmy Corbett, who I also play in another band with. After the album was done, I started showing it to friends. Our friend Brandon Bartlett was excited to be a part of it so he signed on to play bass guitar. 
The band name comes from a lyric in our song "Stability": "If I can't pursue this life that's a sin / 
That's it, call it, I'm already dead." It stuck out to me so we went with it. It is meant to represent for anyone, but mostly it's a reminder to myself that if you aren't pursuing a passion in life, and just going through the motions without doing something to stimulate or that brings you joy, you're already dead. 
2. Previous musical projects? How'd you first get into music? 
Dan: I've loved music as far back as I can remember. An uncle of mine was a big influence (Billy Caulfield, R.I.P.), he was always playing in a band. I'd see him playing when I was real young and I think it just stuck with me. Got my first guitar when I was in 6th grade and have played ever since. 
I've played with and play in a handful of bands. I was in one semi-serious project in my early 20s. I really cut my teeth with that band, we played over 700 shows in just over 4 years. Bar and cover gigs, concerts, a couple tours, house parties. Any gig we got we would do it. Other, more current projects I'm proud to be involved in are all local to Boston. I play bass guitar in Monkey Knife Fight, Urban Suburban, and Oak Grove, they can all be found on streaming platforms. 
3. First concert that you ever went to? 
Full disclosure: Styx, Reo Speedwagon, Eddie Money with my parents haha. My mom was at Newbury Comics (local Boston music store) with my brother, and they literally gave her four tickets for that night. So it was a family trip. I'll never forget that first feeling of a live show though! The second concert was Alice Cooper, which had a much bigger impact on me. 
First local show was with a band my brother was In. There was a decent little music scene in the town and area I grew up in back then (early '00s), so we went to all of those shows. My cousin also promoted a few, and we'd all make it out to support. 
4. What's your writing process like? 
For me personally, a lot of ideas/melodies/words come to me while I'm working. I'm in the Boston Pipefitters union. I work with my hands all day, and am a pipe welder. I usually have a song in my head while I'm either underneath a piece of pipe welding, or 30 feet in the air in a boom lift. I'll use voice recorder on my phone and get any ideas down, and they will usually stay in my head till I'm driving home to elaborate and record more. Then I'll really go to work when I have the time to actually sit down and complete a song at home. 
5. What other artists or songs inspire your music? 
The list of music that I'm inspired by is endless. I will focus on the music that directly inspired these songs. We are inspired by the whole spectrum of punk, for sure. For the origins of it to current bands still making it happen. For this playlist I thought of songs I know directly inspired me while writing these songs, and ones that I know have inspired me for as long as I can remember. 
Rancid, "Roots Radicals" – This is just one song, but Rancid is the biggest inspiration, hands down. And they have been for most of my life. I could talk about this forever, so we'll move on, 
Jaya the Cat, "Forward" – Jaya the Cat is a band from Boston but they now reside in Amsterdam. I first heard them as a high school freshman and have been hooked ever since. A huge impact to this day. The mix of reggae, punk, rock music is flawless. 
Frank Turner, "Get Better" – Frank Turner is on a level of song writer that I will always strive to get to, but never will, haha. This song in particular was huge for me after I lost my father. I'll alway consider this inspiration on many levels. 
The Clash, "Police and Thieves" – So much is owed to the Clash. They influenced (probably) every other band I'm listing here. I picked "Police and Thieves" because it is a cover from Junior Murvin. Showing the beginning blend of punk and reggae. Two huge styles for me personally. 
Red City Radio, "Two Notes Shy of an Octave" – I slept on RCR for a long time. And I hate myself for that haha. I just remember when I really started writing/completing these songs was when I started listening to them. So I just know they had an impact, the hooks and harmonies are unreal! 
The Specials, "Gangsters" – Everyone should listen to the Specials. two-tone ska revival at its finest. 
Dropkicks Murphys, "Do or Die" – I'm a 4th generation union pipe fitter, Irish, and a punk. Early Dropkick Murphys, as a band from Boston playing hard punk rock with Celtic influence about blue collar union workers, it was a perfect fit, haha. 
Pennywise, "Brohym" (from the album Full Circle) – To me, this is the epitome of a song about friends who become family. Especially anyone we've lost. Written by a legend, only to be remade into a tribute to him. I can't begin to describe the impact Pennywise had on me anyway. 
Anti-Flag, "Bring Out Your Dead" – Anti-Flag was the first band to really bring attention to political issues to me in a direct way. I may have liked other political songs without understanding the meaning. But with this band, in 2001, I was 13 reading the fact-checks of their lyrics In their CD booklets!  They have always provided truth through their music. 
Bad Religion, "Supersonic" – This may not be one of Bad Religion's most impactful songs. But when I was 14 and the album Process of Belief came out it was everything to me. Then I saw them at the Avalon in Boston that year and I will never forget it. This band and all their albums have been a huge impact on me. 
Special mention: I can't talk about musical influences without a shout out to Punk-o-Rama Volume 2. I'll never forget when I got this cd for free with my pair of "back to school" Vans. That was it, I was hooked on punk rock. It opened all the doors and I am forever grateful. Whoever is reading this, listen to that comp. 


6. What's the live experience like and your philosophy on playing live? Do you think the music live should be identical to the recorded version or should it be its own thing? 
Live music is the greatest thing in the world. I'll live and die by that statement. Whether watching or performing. For performing, I feel it is instant gratification for the endless hours put into mastering a craft. You don't get that from people streaming your songs, you don't get the connection that you do when you play a song that someone loves and you can both enjoy that moment. That means as a performer I owe it to anyone who is watching, to give it my all every single time I perform. Which is easy, because I fucking love it. It is therapy, a party, a conversation, an escape, for all of us. 
A performance being identical to the recording depends on the song in my opinion. There is a lot of music that comes with the freedom to improvise and make it unique each time. Then I think there are some songs that don't need that, where the recording is the perfect rendition, and there is no need to alter it. 
7. Has the band toured? What has the touring experience been, best shows? Worst shows? 
Since this band so new, no tours yet. But we plan to change that! 
My personal experience in touring was the best. There was nothing easy or glamorous about it. I can see why it isn't for everyone. But it is definitely for me. Every night was a new city, meeting new people, gaining new friends and performing. Doesn't get any better than that in my mind. 
No worst shows. Maybe the bullshit before and after, but you gotta appreciate the chance to play every time. 
The best show is always the next show . But there are a few favorites I will always remember. 
8. What's up next for the band? 
I see endless possibilities for this band! I started this just as a recording project with no band at first, and wasn't sure if there ever would be a band. I hit up Nick the drummer, because I suck at drums, haha. He helped me bring these songs to where they are. After we recorded, we got Brandon on bass so we could jam a little. When the three of us started playing together it clicked. 
We have a good chunk of more music already written, it is real inspiring for me to actually write with this group in mind now. Brandon has also contributed new songs which are a perfect fit. We are booking local shows as of now, and spreading the word of this new record and album coming out. Just keeping the momentum going!


 
Instagram: https://www.instagram.com/already_dead_music/