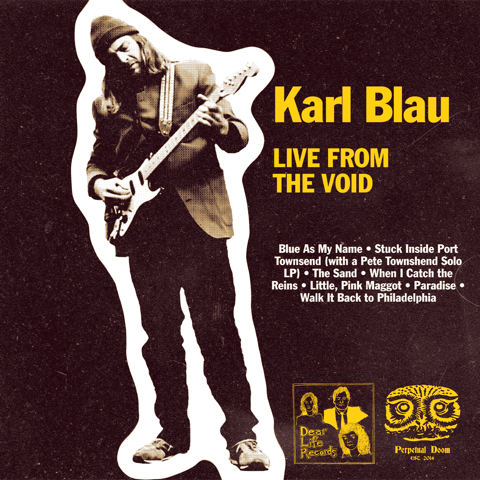 "Performed for an audience of zero, in an abandoned amphitheater somewhere on the East Coast."
Right off the bat get it out of your head that this is a finished produced album if you know Karl Blau's other material. To me it's reminiscent of a demo collection or b-sides collection and comparatively to the rest of Blau's catalog it is very under-produced. Like Blau's other material within one record it feels eclectic but not all over the place. His album material always has a live feel to it but this sounds really live and spontaneous like we are hearing some of the tracks as he was writing them. Track one is a rough little instrumental that is bluesy to set the tone. Track two dips into a very "American Woman" riff with what seems to be half intentional lyrics, and I say that only because they aren't sung with the full push of some of the latter songs. 
As we enter track 3 the production value goes up a little as we hear a slight drum tick almost as if it's a leftover piece of the click track, bird and forest sounds mixed with solid lyrics and songwriting over acoustic guitar and harmonica. The melody at certain points reminds me of Wreckless Eric's "Whole Wide World" but then by songs end almost has a Steve Miller or Van Morrison vibe. I'm guessing this album was actually tracked outside or next to a rotating fan as the sound of wind pushing on the microphone interrupts the steady pulse of "The Sand". However the vocals and guitar style by this point has grown on me by mid-album. It does take getting used to in this day and age to hear an album with just a guitar and a guy, but Blau pulls it off well but makes me wonder how good this could sound as a full band thing with some production behind it. Blau's other material is classic country and this doesn't feel like that at all. The 60's vibe continues into track 5 "When I Catch The Reins" as it's like early Cat Stevens writing but again with simplified production. 
Track 6 "Little, Pink Maggot" has a different overall production tone but the writing again falls into that 60's garage rock meets folk feel. As the album nears it's end Blau offers up a Little Wings cover, which I'm not really fond of bands covering brand new songs but it's nice and different enough from the original as it sheds the country twang of the original. To me it sounds like a mix of NJ's Young Legs and some more of that Cat Stevens vibe. Same for the final track of the album "Walk It Back to Philadelphia", has that Cat Steven's vibe but what's nice is the addition of backing vocals. In all a fun album and reminiscent of some of Blau's earlier albums like Songles or Nature's Got Away but with much less production. If you are a fan of Blau's this is fun look at some of his very stripped down songs, like we are peering in on a songwriting session.
- Sam Lowry, BMN Contributor
Perpetual Doom
Dear Life Records
Cassette/digital release 9/25 - Pre-Order: