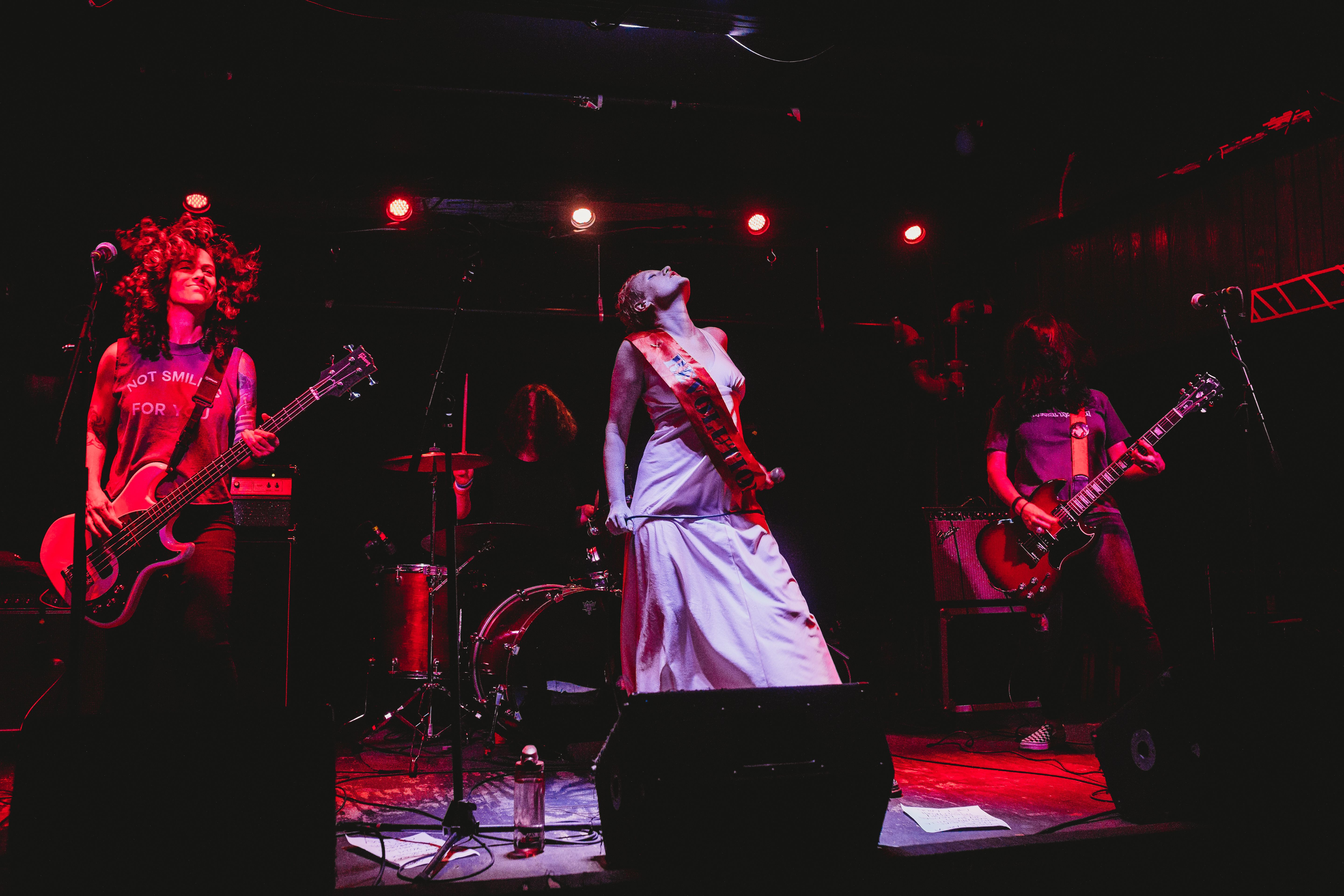 If you take a little bit of Bikini Kill and mix it with the political lyrics of NOFX, Rage Against The Machine and big helping of AOC and Ruth Bader Ginsberg, you begin to approximate 50 Ft. Furies. The band born in Jersey City and became a staple of shows at Pet Shop, White Eagle Hall & FM where they blew the roof off the place on many occasions. They sure don't mince words or say anything other than exactly what it is on their minds.
What Does Your Band Name Mean?   
It means that we won't be sued by the 13 other bands named "The Furies."  
How Did You Meet?  
Back in 2016, Tracey put out a call on Facebook for women who wanted to put together a Bikini Kill cover band called "Pounding 40s" to perform at Rockit Docket's famous "Ghost of Uncle Joe's" Halloween festival at Harsimus Cemetery. A mutual friend connected her with Erin Connors (guitar) and Jahna Rain (drums). The first time they met was at their first rehearsal at JC Studios. Connors suggested they call Susan Lutin to join on bass, and voila! We immediately gelled. We had a great time putting that show together right before the 2016 election.   
After we parted ways with Rain in October 2019, we were super lucky to have Felipe Torres join us for recording "Miss America President." He plays drums with Susan in her other band, Black Wail, and she mentioned that we were looking for a drummer and he was like, "I'll do it!" We were elated! Felipe is one of the best drummers on the east coast.  
What's Your Songwriting Process?  
Basically, we come into rehearsal fuming over something 45 just said or did or excited about something AOC or Tlaib just did or furious over something that just happened, and then we put a song together. We wrote "Bake Sale" after Erin attended a Jersey City school board meeting. She came in with some ideas scribbled down, we talked about it, volleyed ideas back and forth and then we came up with the song and the lyrics by the next practice.  
Who inspired you to make music?  
Bikini Kill, PJ Harvey, Dolly Parton, Linda Rondstadt, Fugazi, Pussy Riot 
Who would you most like to collaborate with?  
We would love to legislate with the Squad. We have so many great ideas: an end to family separation, free pap smears and tampons funded by Paul Ryan, a Planned Parenthood inside every Starbucks, 70 billion dollar budgets for libraries, converting all Trump hotels into homeless shelters, abolishing ICE, arresting the officers who murdered Breonna Taylor, just to name a few.  
If you could go open a show for any artist who would it be?  
CARDI B. Who else? 
What is one message you would give to your fans?   
Ladies, if Donald Trump can be the president of the United States, then you can be a rocket scientist.  Never underestimate yourself. Never second guess your ideas. Recognize that we live in a society and if you are stating ideas in a meeting and no one hears you until a guy repeats the same exact thing you said, it's not you. It's patriarchy.  
Also, we know all about Biden. You can be critical of the DNC and not give Trump a second term. A second term wouldn't be more of  2016 - 2020, there would be unspeakable violence unleashed against black people, immigrants, women, poor people. We have to vote out Trump on November 3rd. Organize for a 3rd party in 2024, but right now we have to vote for Biden.  
Finally, white people, challenge white male supremacy. Don't allow your colleagues and friends to feel comfortable saying racist/sexist shit. Don't let that shit slide. Stand up. Speak out. Fight back. Protest. Research.  Be active. Participate. Volunteer. Donate. Your responsibilities don't end after you vote in November. Stay involved.  

What would you be doing right now, if you weren't playing in a band? 
Probably losing our minds. We are all active in various ways, but 50ft Furies gives us a space to scream our message and hopefully rally others. It's also given us a way to bring attention and some cash to local orgs trying to help women and immigrants during this terrible time. We can't wait to perform again.  
We all work full time, Erin has a family so she has two full time jobs. Even though feminism and punk rock have historically been lucrative paths, we choose to have other jobs just to maintain a connection with "the people".   
How do you feel the Internet has impacted the music business, especially recently in the Covid Era?   
The internet made sure no musicians made a living wage. Even before COVID!  
What song do you like to perform? 
It's fun seeing women in the audience respond during the talking part in MY BODY, you can tell when they realize what we are talking about. They start nodding, like, Yeah. That's right.  
Performing "Injustice System" with Lou Koller from Sick of it All at Pet Shop Bar in Jersey City was pretty epic. Koller was a judge at JC Studio's battle of the bands years ago, but we had already been doing that cover. We played it at the Battle and lost points for pandering. Worth it! We reached out almost a year later and asked if he would come play that song with us for Jahna's birthday show and he totally did. Stellar guy. We would have him in our Miss America President cabinet no doubt.  
What is the most trouble you've ever gotten into? 
We will let you know after the election.  
What is the best advice you've been given?  
We get so much unsolicited advice from guys, it's just really hard to pick the best! "Smile" is a top contender.  
If you could change anything about the industry, what would it be?  
The music industry would be run like a co-operative, it would be unionized. People would be protected right now. Not everyone in a band is doing this as a hobby.  
What's next for you?  
Well, we just released our debut album, Miss America President, which is available on Bandcamp right now, so probably some world domination, becoming Lifetime television producers and lots of Golden Girls cosplay. The album will be available on all platforms (Spotify, Itunes) except Amazon by September 9th. 
What are your favorite movies or books?  
Tracey: Movie -  What We Do in the Shadows, Book -Gone to Soldiers by Marge Piercy 
Erin: Movie - Any Hallmark rom com that provides escape from the shit show we live in, Book - The Mass Psychology of Fascism by William Reich 
Susan: Book -Their Eyes Were Watching God by Zora Neale Hurston, Movie: Better Off Dead 
What are your top 3 desert island albums (3 records for the rest of your life)?  
Tracey: PJ Harvey Dry, Fugazi 13, Olivia Newton John ONJ 
Erin: Guns and Roses: Appetite for Destruction 
Susan: Heart -Dreamboat Annie, Kate Bush -Hounds of Love, Fishbone-Truth and Soul