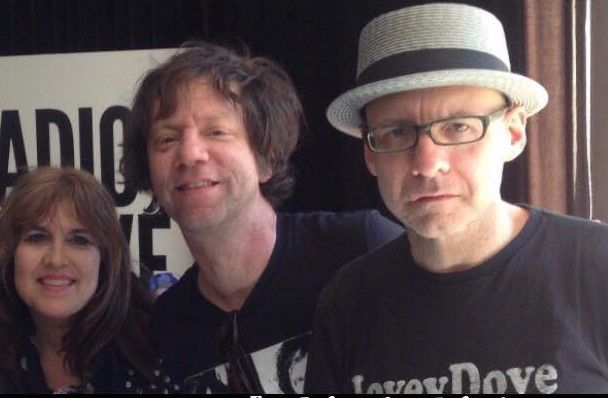 Garden Variety Fuckers By You, Me, and This Fuckin' Guy 
You may remember the alt radio hit "Detachable Penis"  from the 90's as the narrator, a very nervous character talks about finding his detachable penis for sale by a street vendor on St. Marks, I think that was the gist of it. Now say what you want about the humor but the riff in that song used power chords and a delay pedal that gave it an iconic sound to the point that anyone that ever played a power chord with a delay pedal set just right was accused of ripping off "Detachable Penis". The music on this new disc is great, it's almost as iconic. Had you removed John S. Hall's vocals from the album and put someone singing in a Ben Gibbard voice this might be one of my favorite albums of all time, but alas it is not. 
Does Hall have a certain charm that some people may enjoy? I think he does. It's an attempt at comedy where he rants about everything from owls to going on a hike to boats & trains. My main issue is these rants feel like they need a punch line if that's what we are going for here is to make people laugh. At first, I thought " Oh, this guy is putting on this NY accent and doing schtick" but by track 5 I was thinking "Jesus, this guy says fuck so much, I think this is his real personality".  Is he pretending to be this guy or is he living this? Maybe he really does think owls look like dicks with their chests all puffed out, ready to pick a fight. The best way I can describe this is if Andrew Dice Clay died and possessed the body of Woody Allen and went on a nervous rant about everything around him while going through an ordinary mundane day. 
What I feel this release misses the mark on that gave "Detachable Penis" it's charm is the humble narrator. This release puts the narrator in a completely different light, he's a dick on purpose and it's clear it's an act. This is one of those releases that I could see a bunch of high school boys sitting around laughing their asses off to. On the other hand, for the average music /comedy fan who digs bands like Flight Of The Concords, I don't know if they'd be able to get into how low the low brow humor gets on this release. Do I think he might become the next messiah of meatheads from Brooklyn and the Jersey shore, most likely yes. I could see this album working better as skit comedy than a musical endeavor. It's like a podcast about a neurotic swearing angry New Yorker going about his average day and it inadvertently has music behind it. I'm going to admit this in secret to you guys only, by the end of the album on songs like Sunset, did he win me over just a little bit? Yeah he did, it's a fun listen.  I even went back to listen to Owls again. 
Hall admits he is adopting a persona of a cranky poet on this release and although by the end I felt it had some redeeming qualities, this could use some editing. The hardest part of putting an album like this together is where do you start? It takes the listener a good 3-5 tracks to realize this is a really long one-track bit. The first track is actually the one that gave me the bad taste in my mouth as it tries to end with a mediocre punch line. So maybe I was wrong, the long never ending rants that meander and just kind of end is the strength of this release. Again, this takes a little time and effort to get into but it has it's moments.