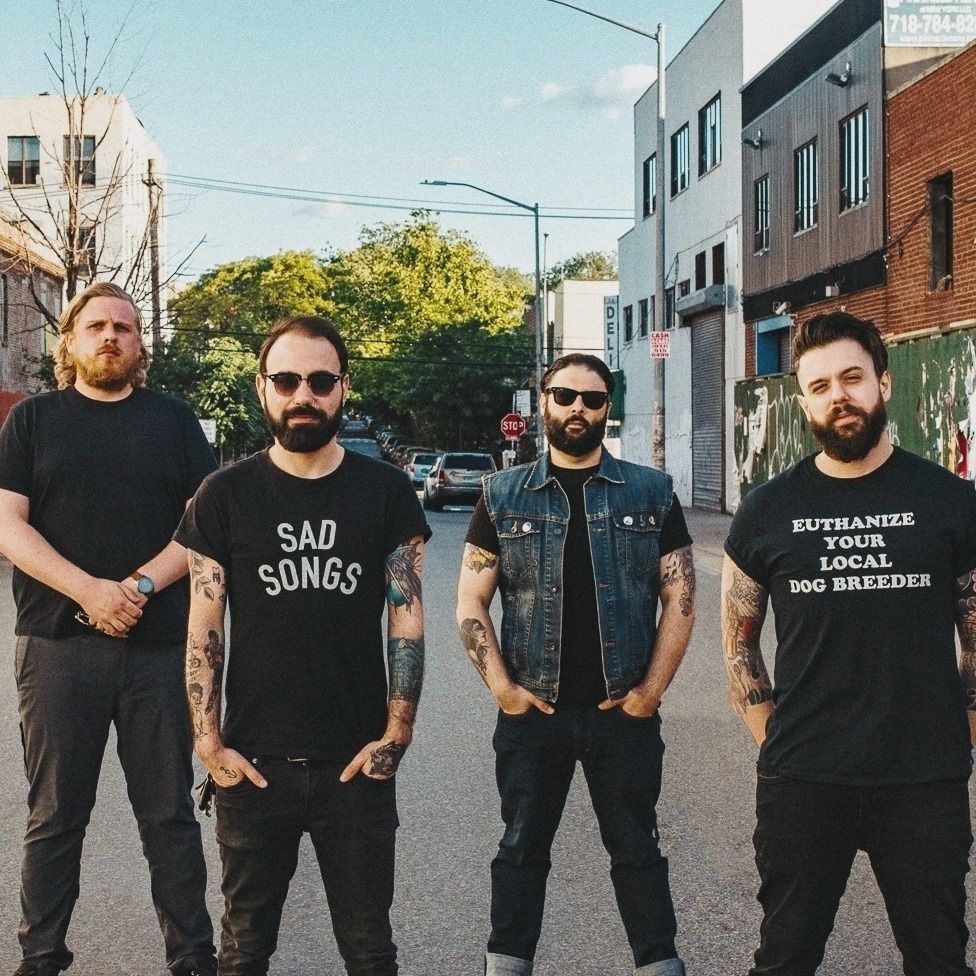 When I was a kid eating up all things SoCal skatepunk, I came across a Kung Fu Records mail-order VHS called Fear of a Punk Planet. It was a show created By Joe Escalante and Warren Fitzgerald of the Vandals, documenting the tribulations of a group of young punks (each interested in their own sub-genre) struggling to run a club. One episode found them fighting to find an opener for a show. They excitedly settled on The Bouncing Souls to round out their showcase: poppy enough for the pop-punkers, gritty enough for the hardcore kids, fast enough for the skate punkers. Finding Brooklyn's Tired Radio brought the excitement my 14 year old self imagined fictitious punk friends were feeling. After hearing about them from friends with tastes representative of many avenues of punk rock (and Joe Pugsley pushing their record my way for review, "you're the guy for the job," he says), I've taken an overdue dive into a record that's going to be hard to top this year. 
The record opens with a quick Tigers Jaw-esque acoustic diddy, "Intro (Hurt Less)" which queues me up for the ensuing 7 tracks of existential meandering and the pain and joy singer/songwriter Anthony Truzzolino finds in his path. Honestly, I could quote this whole record and it's going to be hard to settle on just a few to share today. I will try my best. 
The next track "Making Plans" brings us into a big major chord and some fat sounding mid-tempo drums. The production is robust, large, and clean; the lead guitar melodies shine through brightly. Sonically, I'm immediately reminded of Rozwell Kid and the Menzingers. And while "Patterns" may wear some if its influences on its sleeve from a format perspective, it is ultimately Truzzolino's potent and pensive songwriting through this lens that makes the album so special and unique. The opening track sets the pace for most of the record, walking us through varying stages of anxiety and depression without taking itself deadly serious all the time. "Remember when you told me I was bringing you down, and you just really needed someone happy around? Well that really hurt how you just left me to drown but I pulled myself out anyway...I'm making plans to be OK" 
The next track "Send For a Hospital" is a standout for me. 3 chords and a catchy lead push into the type of honesty you'd find on Dear You or any of Blake Scwarzenback's best work. "I'm pumping the breaks, I'm not slowing down. I'm heading straight for a hole on the ground and I'm bearing the weight of a soul that's been bound to a lifetime of suffering, and baby, I'm really struggling." Spacey guitar layering on the outro seamlessly moves into the next track "Mostly Downs," as the telephone-effect vocals chime in, "I passed out on your couch..." 
The rest of "Patterns" flows smoothly in its mid-tempo and cathartic glory. "This is Over" kicks off with a musical Gainesville-hi-five to org-punkers Hot Water Music. "Five Day Bender" takes us along on a visual ride through Colorado and a liberating case of the Fuck-its. "Stay Home" tugs between a loud-and-soft dynamic, detailing the ins-and-outs of isolation and inebriation. The closer "Gouge" layers reverby full chords and swooning melodic guitar lines and serves as the perfect book-end to round out this experience.  
I'm excited to see all the best of 2020 lists this record will deservedly find itself on. For fans of Beach Slang, Hot Water Music, Jawbreaker, Rozwell Kid sans any geekiness, the Menzingers and similar bands, do not miss out on Tired Radio and this record.
CD/MP3 can be ordered here, but colored vinyl will be available in November courtesy of a split label effort including Engineer Records, Sinking Ship, Pyrrhic Victory Recordings, JSNTGM, Sonic Slap & Hobo Wolfman.
Facebook
Instagram
Spotify
Engineer Records
Sinking Ship Records
Pyrrhic Victory Recordings
-Don Lorenzo, BMN Contributor