Grasser is the recording project of cousins Biff Swenson (Earth Telephone, Yawn Mower) and Nick Gianatiempo (Les Dangers, Prehistoric Forest) with a revolving cast of members that now features frequent collaborator Dana Yurcisin (Static Sex) taking over on lead vocals. Grasser follows up their debut album "Later, Registration" from last summer with a brand new single "Not The Same" which you can see their brand new video for below:
What Does Your Band Name Mean? 
Biff: One who participates in recreational marijuana use. 
What's Your Songwriting Process? 
Dana: Very nonlinear and ideas come from all over, but generally speaking it goes a bit like this. Nick'll have loads of ideas and demos dating back years that he brings to the group to get us started musically. Biff has a backlog of catchphrases or one-liners he'll use to get the ball rolling on lyrics once we have a general structure for a song. I'll work with Nick on composition, fiddling with his initial structure, maybe writing a bridge or outro, changing some chords here or there. Then we'll get a bit more granular and trade off guitar parts and basslines, and Biff will step in whenever he's got an idea of his own. So in theory there could be a song where we all play bass on it, each for a different section, but you'd probably never know it just from listening. After the song is in decent form, Biff will bring his "final" lyrics to the group, and I'll come up with the vocal melodies. After that, I'll take all the material and mix at home, and since we're a studio band first and foremost, this is actually where a majority of our arrangement happens. In the recording, we like to just throw out and track any and all good ideas we have in the moment, and in mixing is when I can work to whittle down the songs to their best, most essential parts. This is also where I'll add any effects and samples, emphasize transitions... basically the final bells and whistles to get the track into its final form. Then when we all agree on a mix, we send it off to mastering and start again from the beginning. 
What first got you into music? 
Biff: Nick and I would endlessly watch MTV's TRL and vh1's Behind the Music. I was enamored since day one. Nate Dogg & Warren G's "Regulate" was my first cassette single from K Mart. 
Dana: I can't remember a specific genesis to it all but I've been humming and scatting melodies to myself ever since I could speak, and probably before. My parents having a piano in the house was definitely a factor. My mom and grandma are both very artistic and musical, and they'd both play some songs on the upright from time to time. Then pop radio and movies had me on another level. I remember my first grade teacher being caught off guard by me humming Peter Gabriel in class and her asking if I was a fan. I didn't even know who the guy was at the time, but I saw previews for Say Anything on a VHS rental and the melody for 'In Your Eyes' burrowed in my mind. It'd be many years before I knew I'd want to create music myself, but I was a fan first, and I'm still that way. 
How would you describe the music that you typically create? 
Dana: It's a hodgepodge of fun. Like I said, I'm a music fan first, and I think we're all that way, so what we're listening to greatly influences what we're making. And we all listen to a bunch of different stuff, so it all makes its way into our art. There's R&B, indie rock, hip hop, psych... but you probably wouldn't point to any one of these to describe any given song. Sounds kind of all over the place but it's not, as I think our production and shared tastes are able to cohere all of this nonsense into a pretty satisfying final form. 
Biff: It's only "rock" because of the vehicle in which we serve it up. Guitar, bass, and drums equate to rock in people's minds, but we are way beyond 4 chord power-pop of yesteryear. 
What is your creative process like? 
Dana: I get ideas from all over. Movies, long drives, commercials, dreams, conversations with friends. As a creative you kind of train your brain to see everything through an artistic lens, where you're constantly absorbing everything around you and seeing it in the context of whatever projects you're currently working on. That way you're never running into the existentially daunting scenario of being like, "Okay, I need to sit down and create something from scratch." I'll already have Evernote folders filled with ideas, sounds, scribbles, all sorts of stuff. So I always have stuff to dig into to get inspired and start something new. 
Who would you most like to collaborate with? 
Biff: Frank Ocean, Kanye West, Justin Vernonor, or Tyler, The Creator,  
Dana: Frank Ocean, HAIM, King Krule, Earl Sweatshirt, Rick from Pile, Phoebe Bridgers, The 1975, Fiona Apple, Charli XCX. It's literally endless. So many talented people out there making stuff that excites me. 
Nick: Kendrick Lamar, Kevin Parker, or Julian Casablancas. 
If you could go open a show for any artist who would it be? 
Nick: Tame Impala 
Biff: Brockhampton! They have the best the fans, and a truly insane light show.  
Dana: Probably The 1975. Their audience is fucking massive, their music is diverse in a way similar to ours, and we'd get to hang with Phoebe Bridgers as the other opener. 
What is one message you would give to your fans? 
Dana: Use your limited time on this planet to try to push the human arc in a positive direction with whatever assets you have. Personally, in the darkest periods of my life I've turned to art to cope, to comfort, to inspire myself and ultimately get me through to the other side. As an artist, my greatest asset is my work, and through that work I hope to provide that same inspiration and beacon of light to whoever needs it. You don't have to run for political office to make a difference in someone's life (though, if that's your wheelhouse, please do!). I truly believe everyone has a special talent or gift, it's just about giving yourself the space to find it and feed it. Doing so creates a cycle of others getting inspired to do the same, then them inspiring others, and so on. It's all of our small efforts working in tandem that'll get us to the next phase in human evolution, if we don't take ourselves out before that. 
Do you sing in the shower? What songs? 
Dana: All the time. Whatever's stuck in my head that day. I almost always wake up with a song stuck in my head already. 
Biff: I not only sing in the shower, but that's where I practice my dance moves, so it's going to be upbeat stuff. To be honest, I almost exclusively listen to Justin Timberlake or Kanye in the shower.  
Nick: I sing in the shower, but I usually don't listen to anything. That's where I work out vocal melodies or guitar parts that are floating around my dome. 
What are your favourite venues? 
Biff: My favorite venue I've played was probably White Eagle Hall in Jersey City for a large room. The Saint for a low-stakes local gig. 
Dana: Maxwells in Hoboken. This is where I saw a majority of my favorite shows in the most musically formative years of my life. The size was just perfect, you never felt out of the action no matter where you were. And they always had my favorite bands coming through. So many good bills. As far as non-defunct venues, I have to give love to the Saint for being the beacon of the coastal NJ indie scene. 
Nick: Yeah, definitely Maxwells! Miss that place a ton. Union Transfer is probably my favorite venue that's still open though. That's a great sounding room. 
How do you feel the Internet has impacted the music business? 
Biff: While the landscape has changed drastically for "rock bands" in the age of the internet, the benefit is genre fluidity. As much as people complain that music isn't as good as it used to be, that's only because they're not willing to grow with the times. Some of the best music I've ever heard has come from the past decade. The ability to reach massive audiences with extremely unique ideas is a concept born via the internet. We make sure we listen to new albums every single week as they come out. This is the most exciting time to be a music consumer. 
Nick: Technology has advanced to a point where a majority of people are able to create art freely. People who couldn't necessarily pick up a guitar or rip on the piano are able to produce beats or sample past music in extremely creative ways. You can trash electronic or digital music all you want, but it birthed hundreds of thousands of new artists who would have otherwise gone without an outlet of expression. Punk music wasn't a technically savvy genre, but it was a much needed release for a generation who needed it. The ability to now record in your bedroom at 3am without waking up the rest of your household is an invaluable asset to future generations of kids trying to express themselves.  
Dana: I think it's simultaneously made the means for creating and distributing music far more accessible to the masses while also making it harder for any individual artist to stand out, precisely because of how many people can make and put out music. It's a double-edged sword, but one I can't really fight with because there's no such thing as an interesting artform that's only available to those with money. Exclusivity waters things down by nature. I'd much rather be worried about how I'm gonna get people to listen to my new song than how I'm gonna save thousands of dollars to even record and develop my idea to begin with. More power to the people. 
What is the most trouble you've ever gotten into? 
Biff: I literally couldn't even recall. I've never been to jail, but doing hoodrat shit with my friends is always a top priority. Not gonna say anything incriminating.  
Nick: Nah, I've definitely been arrested! 
Dana: When I was around 12, me and my friend Dave pulled my brother Ben around in a sled. In June. We ran him towards our wooden skate ramp my dad had made but the friction of the snow-less ground (go figure) slowed us down to where he just cleared the edge of the ramp and his head smashed it on the way down. His head split open and blood was pouring everywhere. It really freaked me out. He ended up being okay after a few staples, but my parents weren't thrilled with my performance that day. 
What is the best advice you've been given? 
Biff: Just keep pushing -  Life will always throw you curveballs or a bad hand, but you have to have the wherewithal to bounce back and press on. The UCB slogan of "Yes, And" has guided my life for the better part of the past decade. When a life event presents itself, you can't undo it. You have to accept it and embellish on it. Add to it. Grow from it. Show love, stand up for what's right, take a stand when needed - otherwise, stay the fuck out of everyone's way. 
What's next for Grasser? 
Nick: We just spent a small fortune building a home studio, so the plan is to never stop. We quaranined together throughout COVID to finish our debut LP and shoot a couple music videos, and we are more than prepared to do it again. 
Biff: We don't plan on slowing down whatsoever. We've all been on an endless search for musical equals who are also interested in constantly progressing and pushing our own limitations. Now that we found the roster to do so, we are finally working at the relentless pace we've been dreaming of since our teens. 
What are your favorite movies?  
Dana: Anything from PTA, Children of Men, City of God, anything Lynch, 28 Days Later, Unbreakable, The Lobster... Biff and I watched Inception twice back to back in a New Hampshire hotel once. 
Biff: Royal Tenenbaums, I Heart Huckabees, The Squid and the Whale, Hereditary... and Freddy Got Fingered 
Nick: Good Will Hunting, Goodfellas, and Tommy Boy 
What are your top 3 desert island albums? 
Dana: Paleo's 'Misery, Missouri', The Wrens' 'The Meadowlands', and Frank Ocean's 'Blonde' 
Nick: Weezer's Pinkerton, Kendrick Lamar's To Pimp A Butterfly, The Strokes' Room On Fire 
Biff: Kanye West's My Beautiful Dark Twisted Fantasy, Dogs On Acid's self-titled album, Frank Ocean's Blonde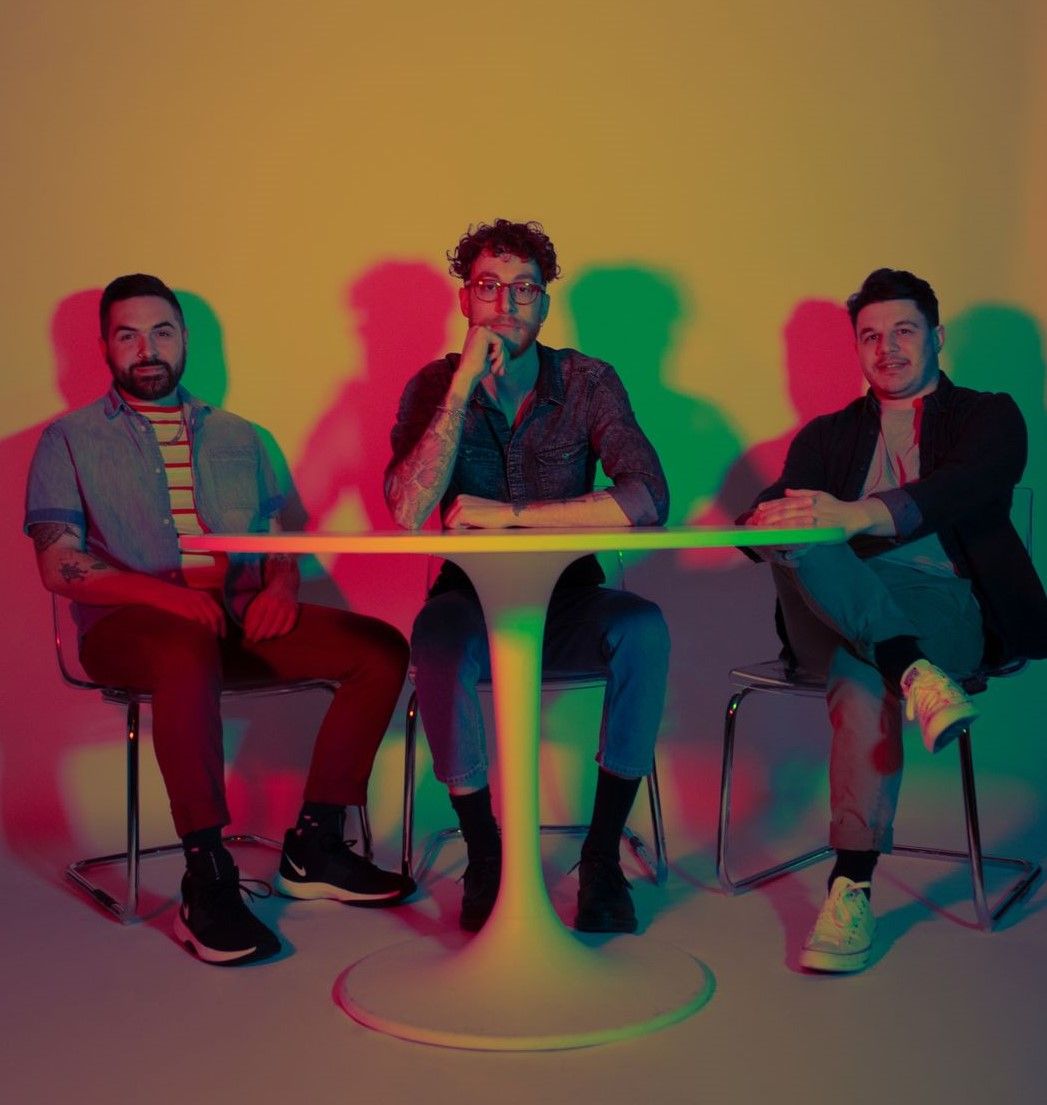 Links: