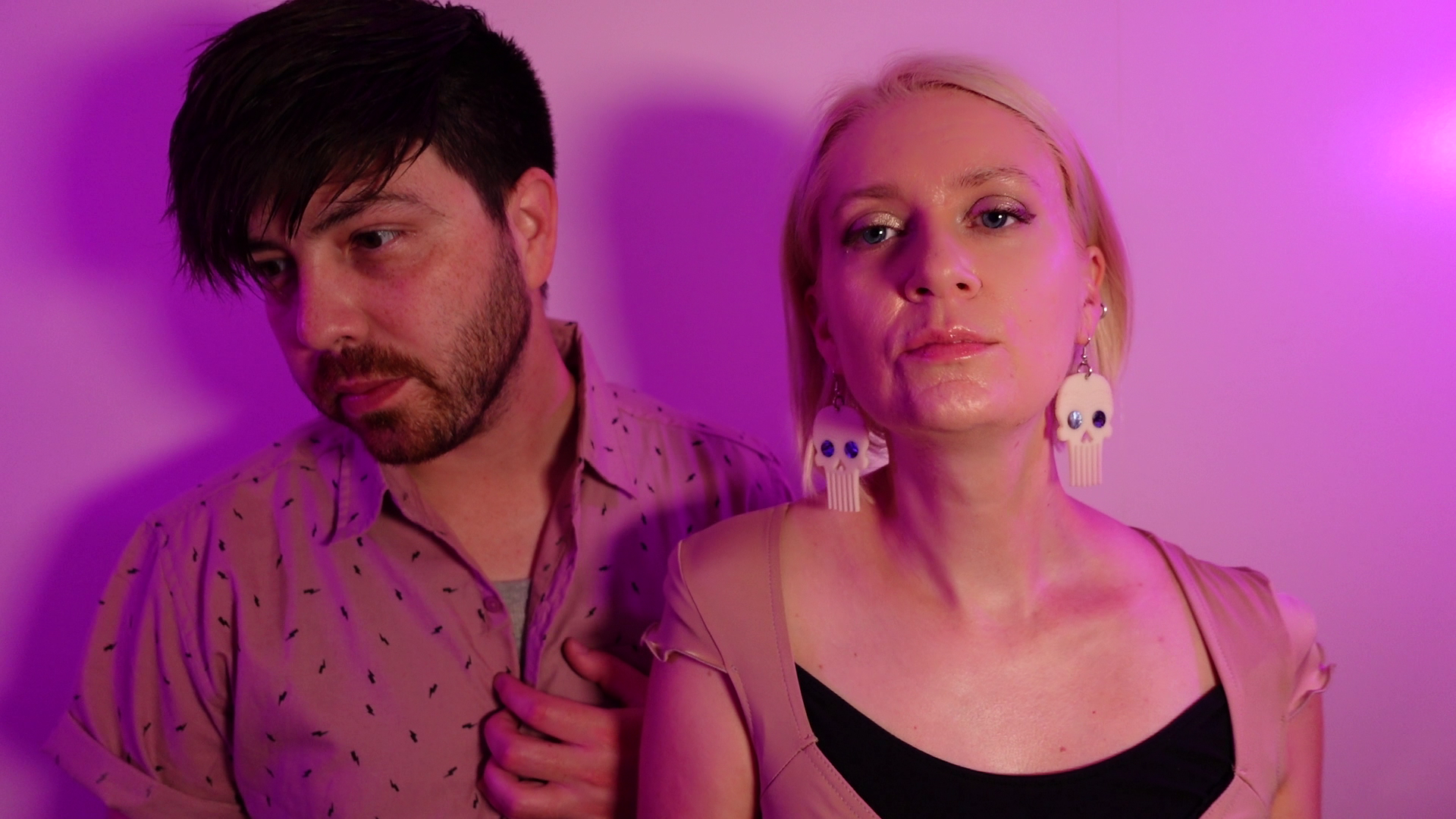 In 2019, Joe and Stephanie Douglas had a band and an age old problem- their drummer. Their third drummer, to be exact. So they disbanded, bought a drum machine, and started fresh as a duo named Separatr. Joe, a long-time guitarist and producer, started reworking their existing bombastic rock songs into moody minimal dark pop. When Stephanie wrote a simple piano ballad called Directionless, it was soon transformed (to their surprise) into a pop-punk anthem. So they embraced these disparate sounds and embarked on the creation of their debut EP QUEEN ACE, all while selling their house and most of their belongings to fund a move from Seattle to Asbury Park, NJ.
How did the band form and what does the band name mean?
We met through our roommates in 2008, and one of our first conversations was about Yeah Yeah Yeahs and Gorillaz. Over the next few months we started messing around with recording some covers and ended up playing an acoustic show with some originals. It's just gone on from there. We eventually landed on the name arbitrarily from a Radiohead song because it looks good graphically and seems vaguely ominous.

Previous musical projects? How'd you first get into music?
Joe grew up with his parents listening to a lot of Smashing Pumpkins and Radiohead, so he always wanted to be able to make music that could sound like anything and not be stuck in certain genres. He started learning to play bass and later guitar, starting a band in high school and even recording an album. 
Stephanie always loved to sing but never had much of a formal musical outlet. She took some guitar lessons and wrote some songs, but never performed them in public until she and Joe met. They would record covers of The White Stripes and The Kills in Joe's tiny college apartment, eventually forming a band called The Shows with a friend of a friend and playing local shows in Seattle and Bellingham, WA. 

First concert that you ever went to?
Joe's first big concert was Jimmy Eat World/Green Day at age 15, but there was a good local high school scene and a local all-ages venue where he played and saw bands like The Lonely Forest. Stephanie's first was The Distillers/Garbage/No Doubt at 19, a pretty peak time to see all three bands. There weren't many local bands to see, but she remembers it being a pretty big deal when a local "celebrity" who had been on the Mickey Mouse Club with Britney, Christina, and Ryan Gosling came back to attend high school and starred in their production of Grease.  

What's your writing process like?
We take a "whatever works" approach to our songs. Some are reworked from Joe's old band, some are amped up versions of acoustic pieces Stephanie wrote. Sometimes Joe comes up with a riff or backing track and Stephanie writes a melody and lyrics over it. For QUEEN ACE, there was a particular song of Stephanie's that ended up being split into three- Obvious, Call It, and First in Line. Joe took the hooks/melodies and built off each one individually, and then Stephanie came back and added new lyrics. The one thing we don't really do is write collaboratively, though we're trying to get better at it.  
 
What other artists or songs inspire your music? 
 
We used to have a different, more traditional rock band and went through several drummers. We knew it would be so much easier logistically and creatively if it was just the two of us, so we started Separatr as a duo with backing tracks in the tradition of other acts like Sleigh Bells and The Kills. We've seen both live multiple times and it validates to us that this is a legitimate path to take as artists. We also love minimal dark pop and try to incorporate those kinds of contradictions into our production. Halsey's album If I Can't Have Love, I Want Power with Trent Reznor and Atticus Ross was thrilling to discover and a favorite for both of us. 

What's the live experience like and your philosophy on playing live? Do you think the music live should be identical to the recorded version or should it be it's own thing?
We're usually booked on shows with full rock bands- drums, bass, keys, maybe even two guitars. So it's essential that we put on as energetic and interesting a show as possible with just a voice, a guitar, and our tracks. We also make sure to always be on time, finish our set on schedule, and meet as many people as possible, because every show is a chance to make awesome connections. Generally our live show is pretty close to our recordings, but we do run specific live show tracks that are different than the album versions. It's always nice to give a live audience a different experience than just listening to the EP, so we incorporate that as much as we can. 

Has the band toured? What has the touring experience been, best shows?worst shows?
We played a lot around Seattle and our hometown Bellingham when we lived in Washington, but it was just never feasible to tour there. North of us was Vancouver, BC which came with restrictions and complications of crossing into Canada. And even Seattle was over two hours away. Beyond that was another 4 hours to Portland going south or about six hours to Spokane WA going east. Not easy to pull off on a weekend. Plus we had two elderly cats on all kinds of medications that we couldn't leave for more than a couple of days. One of the main reasons we moved to Asbury Park was because there are just so many places to play so close together, and booking/playing a tour is infinitely easier.   

What's up next for the band? 
We're working on what we call a "Director's Cut" version of QUEEN ACE. It will have alternate production and vocals, and an acoustic version of one of the songs, plus whatever else we come up with. And we'll be playing shows anywhere and everywhere we can!