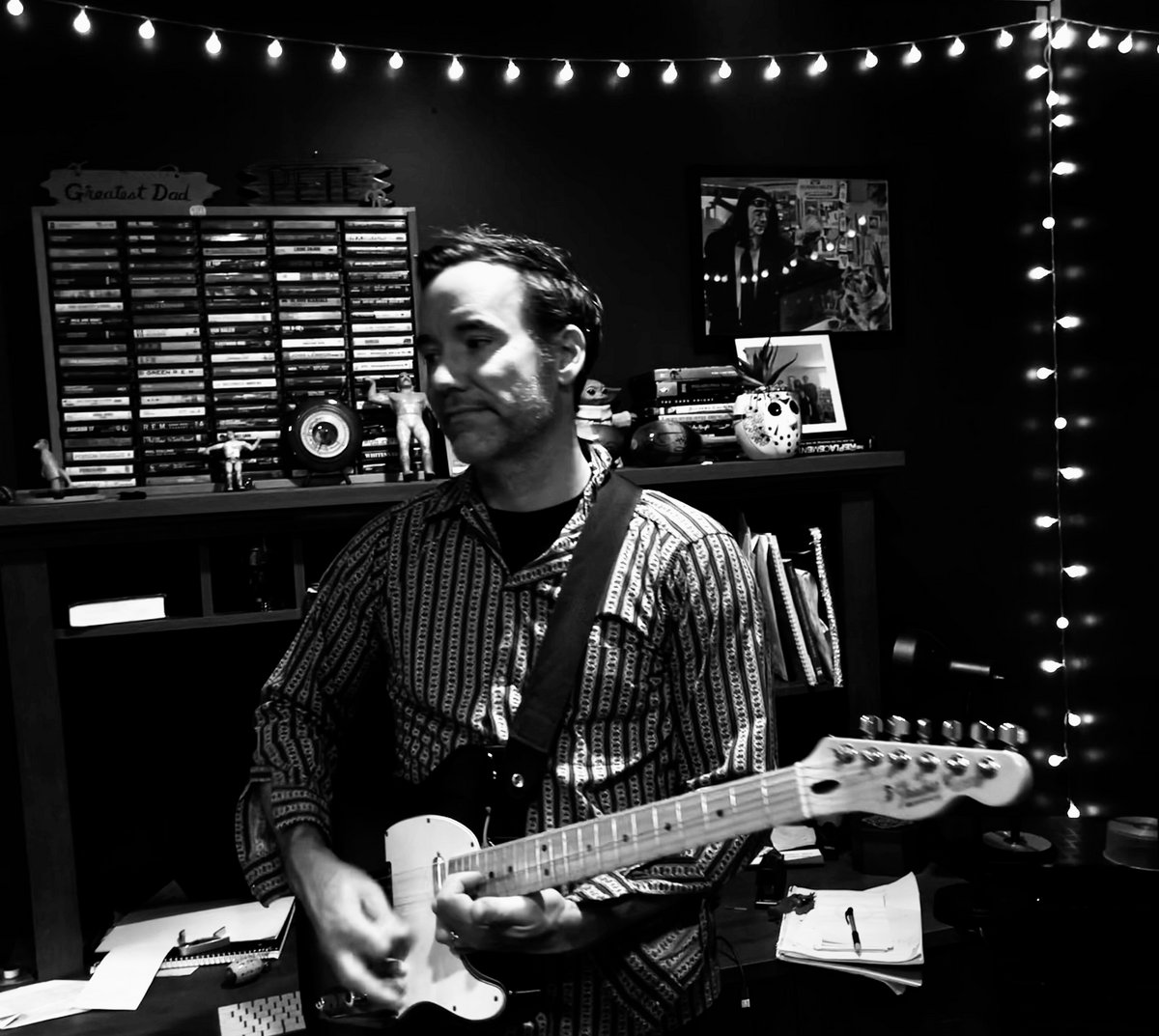 Newark, Delaware's band, "Brother of Monday," released their eponymous debut album on July 21, 2023. Influenced by artists like R.E.M., Big Star, Superdrag, and Guided By Voices, the album presents a unique and unforgettable blend of grunge pop with soul and grit, enriched by psychedelic undertones and lo-fi production. The standout track, "Look It In," showcases the band's artistic brilliance with its wonderfully weird lyrics. Seamlessly weaving diverse influences, the album creates a mesmerizing and innovative sonic experience that lingers in the mind long after the music ends.
 How did the band form and what does the band name mean?
Brother of Monday started as a side project in the late spring of 2022. My brother had just died and it just inspired me to write a couple of songs, including "Bro Out" and "Ken Tremendous," and then I became determined to keep writing and recording for a standalone, finished project that I could throw up on Bandcamp. My brother was definitely influential in my musical endeavors. Back in the early 2000s I had been writing and playing songs at home but he started hosting practices for my first band, Terminal Lunchbox, in his house. He would play drums and guitar but seemed to have some stage fright so he never played live with us. Later, we would use his house and drums to record for my other current band, Von Hayes. Probably our best song, "Mr. Guts," was recorded there.
When I posted the album in January, I had no expectation at all that it would be heard by anyone. But the very next day the author of an awesome blog called JanglePopHub grabbed it off Bandcamp and wrote up a very flattering review, and then conducted a lengthy interview. The next thing I know I'm connecting with Bas and Joep from Wilbur & Moore Records and we're putting it out on CD. I can't thank those guys enough for finding me, believing in the music and making this happen.
 "Brother of Monday" is actually an unreleased Von Hayes song. I thought it would be kind of cool to have a band name and song be the same thing, like Talk Talk.
 Previous musical projects? How'd you first get into music?
I grew up on MTV, so I heard cool stuff on there like Duran Duran and Devo, but was drawn more toward light and fluffy stuff like Huey Lewis, Bryan Adams and Def Leppard. I don't consider that lame. There are some great melodies and musicianship in there. Two musical atomic bombs for me was hearing R.E.M.'s "Stand" at an eighth grade dance at the same time that some kid was getting beat up in the bathroom, and being handed Guided By Voices' "The Grand Hour" EP while in college. Life changing stuff. As far as playing music, I got an acoustic guitar when I was 16 but I just fiddled with it, mostly just playing along to Beatles and R.E.M. chord books. One day I accidentally came up with a really catchy tune called "The Jessica Syndrome" that was just one chord shape where I moved my fingers like three times. It was a big hit haha. That was one of the tunes that ended up under the Terminal Lunchbox moniker. I used to just record dumb tunes like that on a karaoke machine, and then a Tascam 4-track, but then Terminal Lunchbox became an actual band with guys who were ten times more talented than me. The lead guitarist could play like Angus Young. We played shows and recorded songs as a sort of real band for two years but never released anything except for stuff on MySpace and a cover of Guided By Voices' "Pendulum" that ended up on a comp somewhere.
I'm currently still in Von Hayes, which has released four full-lengths and two EPs, and recorded about 50 other songs since forming in 2006. 
There's also another really great side project I recorded with my Von Hayes partner called Players To Be Named Later. That's maybe a top three favorite album I've ever been a part of.
First concert that you ever went to?
I was at Great Adventure with my dad and a friend in sixth grade and we walked into a Missing Persons show because it was free. I remember how colorful and rad Dale Bozzio was, but can't recall much about the music or what they played. They definitely played "Destination Unknown." Wish I remembered more, because I'm a big fan now, especially their album "Spring Session M." I also saw Genesis at Veterans Stadium on the "We Can't Dance" tour. Phil Collins' bald head was just a little tiny dot from my nosebleed seats.
What's your writing process like?
I don't know about other makers of music but my experience is that as you get older the process gets slower. When I was in Von Hayes I would bang out a lot of tunes very quickly and record the demo on a hand-held tape recorder, and to my very stingy ears the batting average was decent. These days I'm more deliberate and take more time, maybe coming up with music for something one day and coming back to it a few times days later. Things can sit around for a while. The music to "Wickedy Splits" had been sitting in my voice memos since May 2022! I could probably force it and come up with more tunes but the batting average is lower. There would be lots of crap. I think that's why new music by most older artists sucks. Rock and roll is a young person's game!
As far as the actual process, nine times out of ten I'll come up with the music and record it on my phone. Not long after I'll mumble out a vocal melody and sing that along with it. When it sounds good to me I'll write lyrics and record it on the 4-track.
 What other artists or songs inspire your music? 
A few years back I had given up on new music. I was old and jaded. One day I put on WVUD – the radio station at the University of Delaware – and they played like five new awesome songs in a row, and they were all female fronted alt and indie rock bands. Diet Cig was one of them. I couldn't believe it. Since then I've been super into new female-led rock bands, especially Momma and Snail Mail. I took two of my kids to multiple shows, including my oldest daughter Lauren, who drew the cover to the album, and my middle kid Kit, who recorded back-up vocals for a song on the next album. (My son played the baritone on a Von Hayes song, so yeah I like to include the family.) Anyway, I just love the energy and spirit of these two bands. They know the classics – Liz Phair, Smashing Pumpkins, Breeders, Pavement, even GBV – and they write really great songs. The two songs I have here are easily my two favorites recorded in the last 20 years.
 I left out a lot of my favorite bands and songs and tried to focus on what inspired me during this time. I've always loved The Raspberries and the driving guitars in "Tonight" were definitely in my head while writing and especially recording. You can hear it in "Stocker" and "Look It In." 
 "In A Big Country" is my second alarm song in the morning (the first is "Don't Walk Away Renee" by the Left Banke, in case you were wondering) and it just gets me so pumped up. I love the possibilities and optimism that comes roaring out of the late, great Stuart Adamson – such a tragedy that he couldn't hold on to that positive vibe. "The Crossing" is a fairly flawless album.
 I could have put any Beatles song on here, but Ringo's self-titled solo album has been one of my favorites since I scooped it up on vinyl a few years back. All four Beatles are on the album, and Ringo, John and George are all on "I'm The Greatest," which John wrote. "Ringo" brings me a lot of comfort and joy and I needed that in the period after my brother died. It definitely helped propel the songwriting for the album.
 As recently as maybe four years ago, I used to wonder who could possibly have Aerosmith ranked as their favorite band? Then I started getting into "Rocks" and I totally understood. This thing rips, and it has been worn out on my stereo over the past few years. You won't hear any Joe Perry or Brad Whitford licks on "Brother of Monday," but you can bet your ass this album seeped into the spirit of what I was trying to do.
 If you know Von Hayes or Brother of Monday, you know Guided By Voices is going to be on this list. I picked "Sot" because it's got that warm, lo-fi sound I love and it features Tobin Sprout on his iconic Fender Telecaster. I was so stoked to have one of my brother's guitars handed down to me, and even more excited when it was his Telecaster. That thing is all over the album, including the leads to "Look It In" and "Ken Tremendous." I used my middle kid's Tele on "Uncle Sprout."
 Any Big Star track would have done the job here, and there's definitely tunes that I like better and are more important to me ("Life Is White," "Way Out West," "Stroke It Noel," etc.) but my favorite song on "Brother of Monday" wouldn't have happened without "She's A Mover." There's a part after the chorus of "Look It In" that is more than a tip of the cap to Alex Chilton. 
 Even though I'm not the president of the Robyn Hitchcock fan club and don't know all the words to half his songs, I absolutely love all of his work and he is one of the most influential artists on my music. I try to write like him and sing like him, and I am 100 percent aware of the fact that neither the songs or the vocals come out that way. A stone-cold genius of our time and criminally underappreciated. 
 R.E.M. is my favorite band of all time, and "The One I Love" was on my mind when I wrote "Ken Tremendous." The album started with and is built around that song, so I would say you wouldn't be reading this without this Berry, Buck, Mills and Stipe classic.
What's the live experience like and your philosophy on playing live? Do you think the music live should be identical to the recorded version or should it be its own thing?
I kind of don't like playing live. I don't really think I'm that great at it to be honest. I always would get up on stage intending to do something crazy at least once, like attempt a Pete Townshend windmill or do a jump to end a song and then I never do it. Because I'm not a performer. I can't think of a single cool thing I ever did when I played out with Von Hayes, except maybe steal a power strip from the band playing ahead of us because they were a-holes. One time we busked outside the Khyber because our set got cut short and we felt cheated on time. But again, rock is a young person's thing. Unless you're a top-shelf artist who can mesmerize a crowd, like Peter Gabriel or Lucinda Williams or Bruce Springsteen, I don't see the point. 
Has the band toured? What has the touring experience been, best shows? 
Brother of Monday hasn't toured. There are no plans to do so at the moment. If I was asked I would play a show but it would probably just be me, as I don't have a band. I used to play out with my other band, Von Hayes. The best show was at this combination bar/restaurant/bowling alley in New Jersey called Finnegan's. Our drummer used a high chair for a snare stand and we covered "Hurts So Good" by John Cougar Mellencamp. The worst was easily at The Church, a funky little venue in Brooklyn that was attended by people from super influential, mega-cool radio station WFMU and maybe even industry types. We somehow got really inebriated really fast. I think someone spiked our drinks. We kicked off the show with "Don't Fear The Reaper" and do not remember a single thing about it so you can imagine how they rest went.
What's up next for the band?
I've been recording the next album, which will also be out on Wilbur & Moore Records. I have a few songs in the can already. On the self-titled album I played everything, but on this one I'm trying to bring in as many guests as I can. As I mentioned earlier my kid Kit is on at least one track and I'll probably get them to play guitar and sing on at least one more. My long-time buddy Nathan Henry, who was in the original lineup of Terminal Lunchbox, played bass on another finished song. In addition to Brother of Monday I'm also working on a new album with Von Hayes. 
https://brotherofmonday.bandcamp.com/album/brother-of-monday