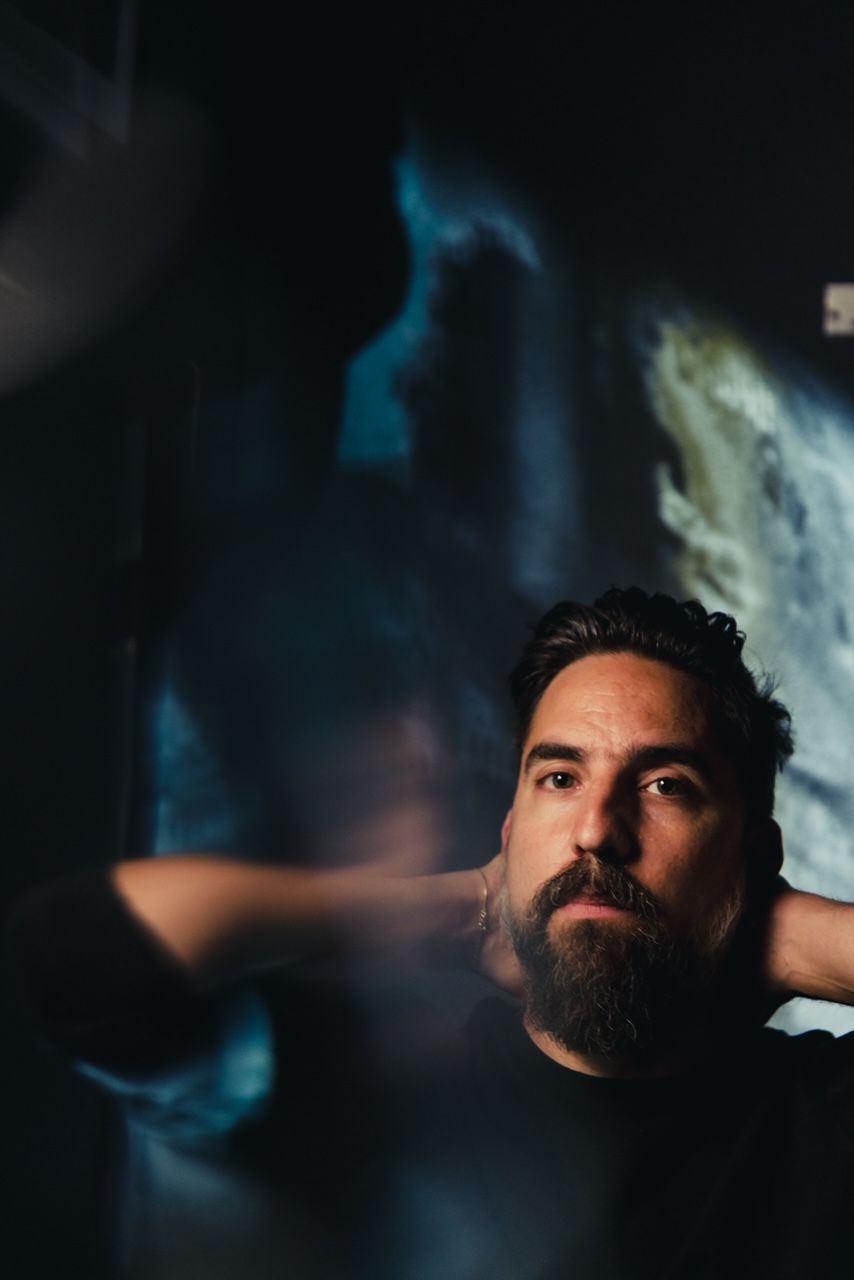 Node Records presents artist The Album Leaf aka Jimmy LaValle who is a composer who uses synthesizers and effects to create a nuanced palette of textures and dense, evocative atmospheres. His music defies easy categorization, with a style that creates soothing melodies, highlighted by jolts of unexpected dissonance. While drawing inspiration from minimalist composers and sound manipulators like Philip Glass, Brian Eno and Cliff Martinez, LaValle has developed his own unique method of decorating the sonic space in his music. 
 How did you get into composing? How long have you been working in the business? 
  I've been in the "business" since 1996. I started touring and making records while still in high school. As for composing, I kind of fell into it. I never planned on it or thought about doing it. During the 2000's I was getting a lot of syncs on TV, there was what felt like a shift in music supervising leaning more towards underground indie bands, and since I made primarily instrumental music, I think a lot of my records naturally lent themselves to syncs in film and TV. That went on for a long time and I was constantly being asked for approvals in a wide variety of usages, down to the film school folks making their first features or shorts. One documentary in particular caught my attention due to its powerful story and the film making process. That was a film called "Torey's Distraction," which I ended up asking to score it, instead of approve usages. So that's pretty much how I started. Combining that with a network of filmmakers that I was introduced to by my wife, who is also a filmmaker, Kate Trumbull-LaValle, I started to do more film work. 
First concert that forever left an impression on your music and potentially helped guide your path into being in a band and/or into film scoring? 
 My time touring with Sigur Ros back in 2001 really left a huge impression on me. I saw the thought and creativity they put into presenting a show very close up. The lighting design, the visuals, the mood, etc. Ever since then, I have always put a lot of focus on creating a show, and each tour, I want something new with a fresh way to present the music. As for film scoring, from a very early age I was a fan of Tim Burton's world. Pee Wee Herman was one of my favorite movies when I was a kid and the score for that really stood out to me. I didn't really put together that someone made music for a film. I just didn't think about it as a part of the filmmaking process. I saw the end result and enjoyed the end result. Since I discovered the world of Danny Elfman, I was really inspired. Fast forward to the 2010's, I started to really pay attention to film scoring and have always been inspired by the composers that think outside the box, go beyond the piano / strings score. Cliff Martinez really stood out for me, especially The Knick. I just thought his score was so cool. It was synth based and it was a show about doctors in the 1800's. There were no synthesizers then. I just appreciate his approach to composing. 
What has that journey been like for you, and how has your approach to music changed over your career, especially as you dive deeper into the film scoring world? 
I've been in this for such a long time that I am constantly learning new techniques, discovering new gear, new ways to make music. The music tool world has been really exciting in the last 10 years or so. Synthesizers are more powerful at an affordable cost, sampling is more powerful, the FX pedal world is insane. Utilizing all of these tools to create new sound worlds has been most exciting for me. As I move deeper into film scoring I think I get more and more comfortable with each film. But I'm never totally sure of myself and I think that's what keeps it fresh. I'm always trying to "beat" what I did last, so to say. But also, each project calls for its own world, and that's the challenge that is always exciting to make on.  
As a composer working with Aaron and Justin, what is your base of instrumentation? Where do you usually work from, a home studio?   
The instrumentation for me in everything I do is synthesizer based. I'll always program a new sound and try to build on a new world within each film. I do have a home studio full of synthesizers, tools and gadgets that I work in daily. But I utilize a lot of other players in my scores as well. I love the collaboration process of having others improv and just record to my scores, which I then take and edit into the final product. It's a huge part of the process for me.  
How has your home studio changed over the years?  
It's evolved with each space I've lived in. If I have more room, I get more stuff. :) However, I'm wanting to simplify and become more focused on a smaller toolbox. I've been in my current studio for about 10 years and I change it every now and then. I'll move my desk around the room, try to create stations, etc. Just try to keep it fresh so I stay inspired.  
 What were the biggest differences, improvements, and/or challenges in your fourth project with Justin and Aaron, Something In The Dirt? 
Like I've said, with each film I try to create a new world inspired by the story. With Something in the Dirt, I struggled for a long time to feel confident in the theme that I initially created based on the script. I didn't think it worked, and then I was able to really bring it in and make it work. I had the players I was collaborating with, Hailey Niswanger (woodwinds) and Jake Falby (violin) double the elements of the themes so I could really change it up throughout the film to hit those thematic moments. It was a struggle to keep it fresh throughout.  

How did you link up with Node Records for the soundtrack release? Is Something In The Dirt your first project with them?  
 I'm thankful to Node for the release! I think they're a cool soundtrack label that focuses on artist/film collaboration. Node co-president Tracy McKnight is a force in the film/music supervision world and really has a passion to promote and elevate composers' work beyond the film. I'm really honored to be in the Node world.  
Do you have anything you are working on now or work that you would like to do in the future in the film world or with The Album Leaf? 
I JUST finished my new record. It will be out this year. :)  
Will you tour in 2023?  
I will be doing a small handful of select dates. Touring is a different landscape post-covid. It's not as easy to make it work. That, coupled with the fact that I have been touring for over 25 years, makes being a road dog much harder. I've got no interest in the lifestyle anymore. But I truly love to perform, so I'm finding a way to make it all work out. 


www.soundcloud.com/The-Album-Leaf