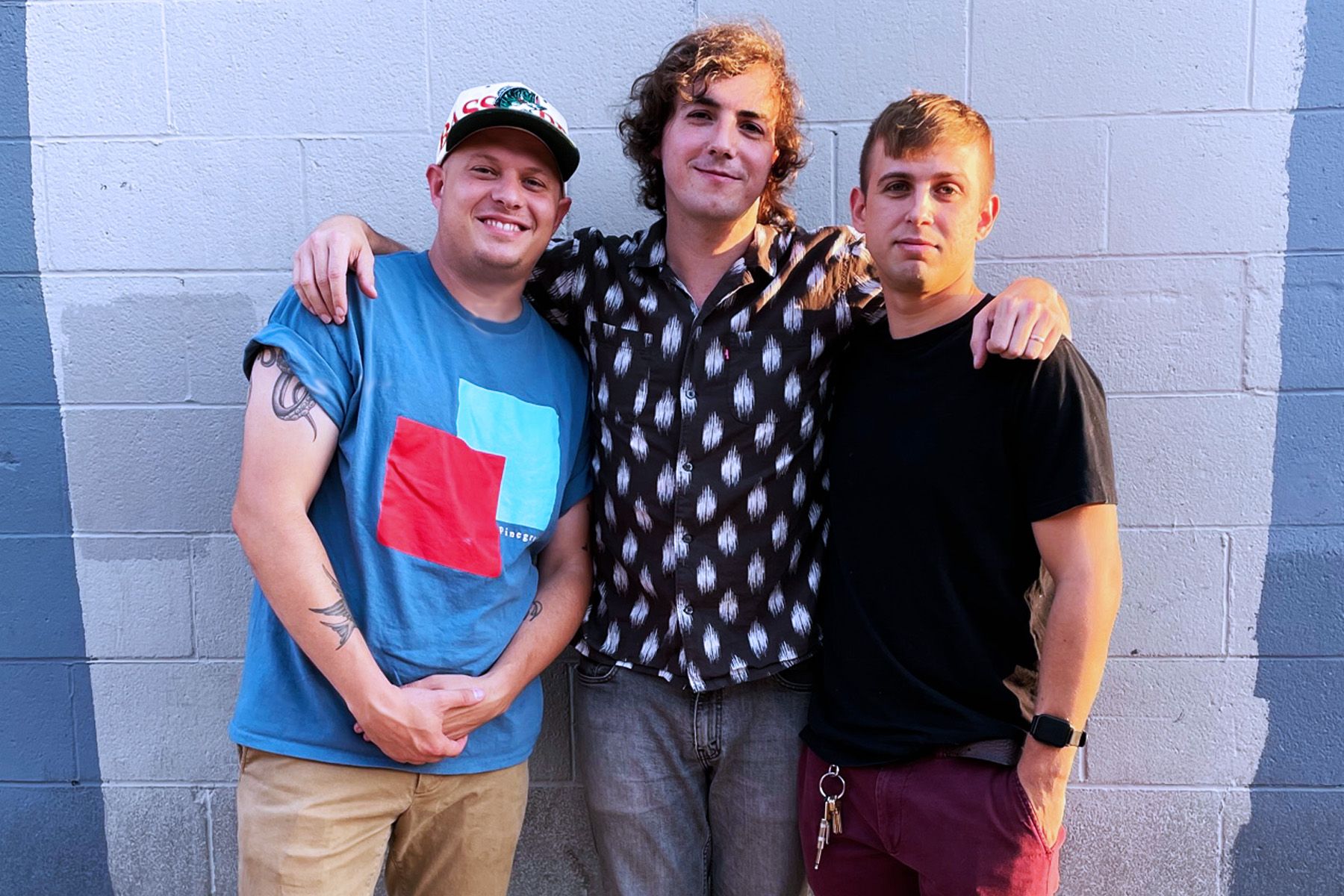 Raised on TV is an indie rock band from the San Fernando Valley in Los Angeles, CA, that was formed by brothers Keaton Rogers and Kacey Greenwood. They embrace the wildly varying and fun nature that comes with being an indie rock band, playing a giant festival stage one night, and a backyard college party the next.The band have been putting the final touches on their fourth studio album which will be released in early 2023 in collaboration with Sell the Heart Records. We got to ask the band what inspires them, how they started and much more!
(Band member Keaton Rogers is answering these questions) 

How did the band form and what does the band name mean? 
The band formed back in 2016 when other bands that founding members Keaton and Kacey were in at the time broke up. Keaton and Kacey are brothers and had never been in the same band, so that was the moment to make that happen. The name Raised on TV came about from both Keaton and Kacey growing up in Los Angeles, being child actors for a time, and us wanting a name that could represent us all best as possible. It was also the one name on a list of hundreds and hundreds of names that not a single band member at the time hated when we were taking votes. 
Previous musical projects? How'd you first get into music? 
Keaton was in a country comedy act called Travis Kreeps (he's still in it. It's just been on hiatus.) Our mom (Keaton and Kacey) took us to a lot of concerts when we were kids, and we were around music at a very young age. When I was 13 I asked for a guitar for Christmas, and my Dad got me one. He showed me some chords, and it all started from there. 
First concert that you ever went to? 
One of the first big shows I ever went to as a kid was seeing Blink 182 and Green Day on their Pop Disaster Tour at The Forum. That was definitely life changing. I saw The Foo Fighters at The Wiltern not long after that, and that was also a game changer. As far as local acts, we used to go to this divey punk place in the Valley called The Cobalt and see bands there. Bands like Incubus and Hoobastank played early shows there. That was awesome. 
What's your writing process like? 
Usually, I love to write on acoustic guitar. It can be really nice to write outside, take the guitar to a park, or the beach, and try to get in the zone. When I have a riff I like, I'll try to record it so I don't forget it, and then I just keep building on it. I also always keep a notebook handy for lyrics, and I jot random stuff down all the time. Maybe just a line or two here and there, and then I'll build on those as well. I have notebooks that go back to high school. Sometimes music and lyrics will be inspired at the same time, and other times they're totally separate. I have songs I've written in twenty minutes, and songs I've been working on for over fifteen years. It's crazy how random it can be. I also like to mix up the process. For a time, I tried writing lyrics while riding my bike. Our new album was written in a way that was a departure from previous Raised on TV material. I started in the studio and experimented with guitar and keyboard sounds, making a track, and layering on top of it to see where it would take us. I wrote the lyrics while driving in my car and blasting the tracks. It was definitely cool to mix up the approach, and I think it took us somewhere that's a little different. 
What other artists or songs inspire your music? 
So many in so many different ways is the short answer of course. The Beatles have been a huge inspiration my whole life pretty much. The way they composed melodies, structured songs, how daring they could be in the studio, how creative and fun they were, it's truly so amazing. I'm a big fan too of Ben Gibbard and Deathcab for Cutie. I love how he writes what's meaningful to him, and how that band works so hard and continues to push and make new great material. Blink 182 was a big influence on me growing up. I loved the songs, but I also loved the honesty, the energy, the authenticity. The same could be said about why I love Nirvana so much. Songwriting is such an awesome artform, and I have a great respect for the artists that never stop, never give up, and continue to grow in their writing and their music throughout their entire lives. I also respect the bands that keep getting out there, playing and touring, no matter how big or small their popularity may be. I love that "road dog" mentality and grittiness. And I love big guitars, beautiful melodies, lyrics that are thoughtful, songs that take you somewhere special, a place you didn't know you could get to until that song took you there. I love songs that bring back memories. I love songs that help get you through tough times in your life. I love songs that generally make your life better. 


 What's the live experience like and your philosophy on playing live? Do you think the music live should be identical to the recorded version or should it be it's own thing? 
Well, I think there can be value to both approaches. Personally, I prefer when the live show sort of takes on a life and energy of its own. I don't think the live show should be a total deviation from the records, because that's what brought the fans there in the first place, but I also think the show should cater to making that moment special and unique. It makes for a more meaningful and memorable show. The live experience to us is the best. There's something so amazing about it, and I feel so alive when performing our original music on stage. It really puts you in the present moment, and there's power in that. I feel like when the performer is feeling alive on stage, it helps the crowd feel more alive, and that's when the magic can really set in. I mean, the times in my life when I've felt the most charged up, the most inspired, the most in touch with the moment, were at a concert seeing a band I love. When we play, I try to remember that. I also try to treat every show like it's the last. I'll say to myself before I go on stage, "if this were my last show, for whatever reason, how would I want it to go down? How would I want it to feel? For myself, my band, and everyone in the audience?" And then I go out there and try to give it everything I have.  And I don't care where we're playing. We could be at a dive bar or at an Amphitheater, it doesn't matter. The philosophy is the same. You have to treat every crowd, big or small, like they're the most important crowd you've ever played to. You have to sweat. You have to give a shit. The vibe, the feeling, it starts on stage and trickles out. The bands that own that fact, are the ones that kick ass every show. What's crazy to me is that I said all of that "last show" stuff to myself at literally what became the last show we played before the Covid shut down. It really helped me realize how fragile it all is, and how a show really can be your last without you knowing it. All the more reason to savor it and to kick ass! 
Has the band toured? What has the touring experience been, best shows? worst shows? 
Yes we have. Since we started we made a point of getting in a van and touring. That's a huge part of why we started a band in the first place. We started small, regional tours, weekend tours, and then one week, maybe two, and got to a point where we were able to tour all of America and Canada and be on the road for nearly two months at a time. Early on, it was an accomplishment if we broke even. Making a profit, no matter how big or small, always felt like the best money we ever made because we made it playing our own brand of rock and roll and chasing our dream. At times, we've gotten so broke on the road that we literally played on the street to be able to eat dinner that night, and then hoped we sold enough shirts at the show to have enough gas to get to the next show. I feel like that's what really made us a band though, more than anything else. The road tests you, and it can break you. I remember one night, we were hit by a blizzard in Wyoming and we had to pull over on the side of the highway when it was shut down because of all the black ice. I remember hearing wolves gather around our van. It was insane. We were trying to make the next show, so we pushed it as far as we could. As soon as the sun started to rise, we got our asses back on the road, and we ended up just barely making it. That was just another reminder of how much we love it, and how dedicated we are to it. 
Touring has been amazing to say the least. The shows of course, people we've met, friends we've made, experiences we've had, places we've seen, things we've done, I mean it's life at its fullest. We used to have an old cheap van we bought off of Craigslist that broke down all the time on us. One night it broke down in Vegas and we were stranded on the side of the road. We ended up getting lucky with a cool auto shop where we were able to leave that van until we could afford to get it towed back home. We worked our asses off and got a new van that we still have. That's the one that we've taken all over the country. There's been so many awesome shows. One show that comes to mind was in New Hampshire right by Lake Winnipesaukee. It was a small crowd that night, but I felt like we connected with every single person there and we all ended up hanging out the whole night until 3 or 4 am, just having a blast by the lake. We've definitely had shows not go to plan, and not go well. One time we played a festival where the original fair grounds were flooded, so they had to move it last minute and basically nobody ended up showing up. We made the best of it, and got bit a thousand times by mosquitoes, and played to the sound crew and vendors. We once played at a super punk club where the crowd really didn't like us and it sucked haha. We once played a Halloween show where we were the only people that dressed up, and of course we dressed up like a country band and everyone thought we were weird assholes in cowboy hats haha. That's all part of it though. You play through it. And honestly, it may sound cheesy, but the worst show is the one you don't play. We've had so many insanely fun and amazing shows that it all evens out in a way. 
What's up next for the band? 
Well, we're gonna be releasing a new music video for our single "Around the Sun" later in October. We're super excited for it. The video is set in the 1970s on the beach, so were all dressed up in crazy costumes, having fun, and being stupid. We're also super stoked to be working with Sell the Heart Records on our first vinyl LP release for early 2023. It'll be our 4th full length album. Before then, we'll be releasing some more singles from the album with Sell the Heart. Beyond that, a lot more touring. We'll be going back to Arizona, Vegas, and Northern CA for a bit, and hopefully further out later in 2023. And we're looking to get back in the studio in a few months to work on our 5th album with new member Chris Clark. Super excited for that.
11/10: Los Angeles, Boomtown Brewery 
11/11: Santa Rosa, Shady Oak Barrel House 
11/12: Bay Area TBA 
11/13: Tamarack, Oakland