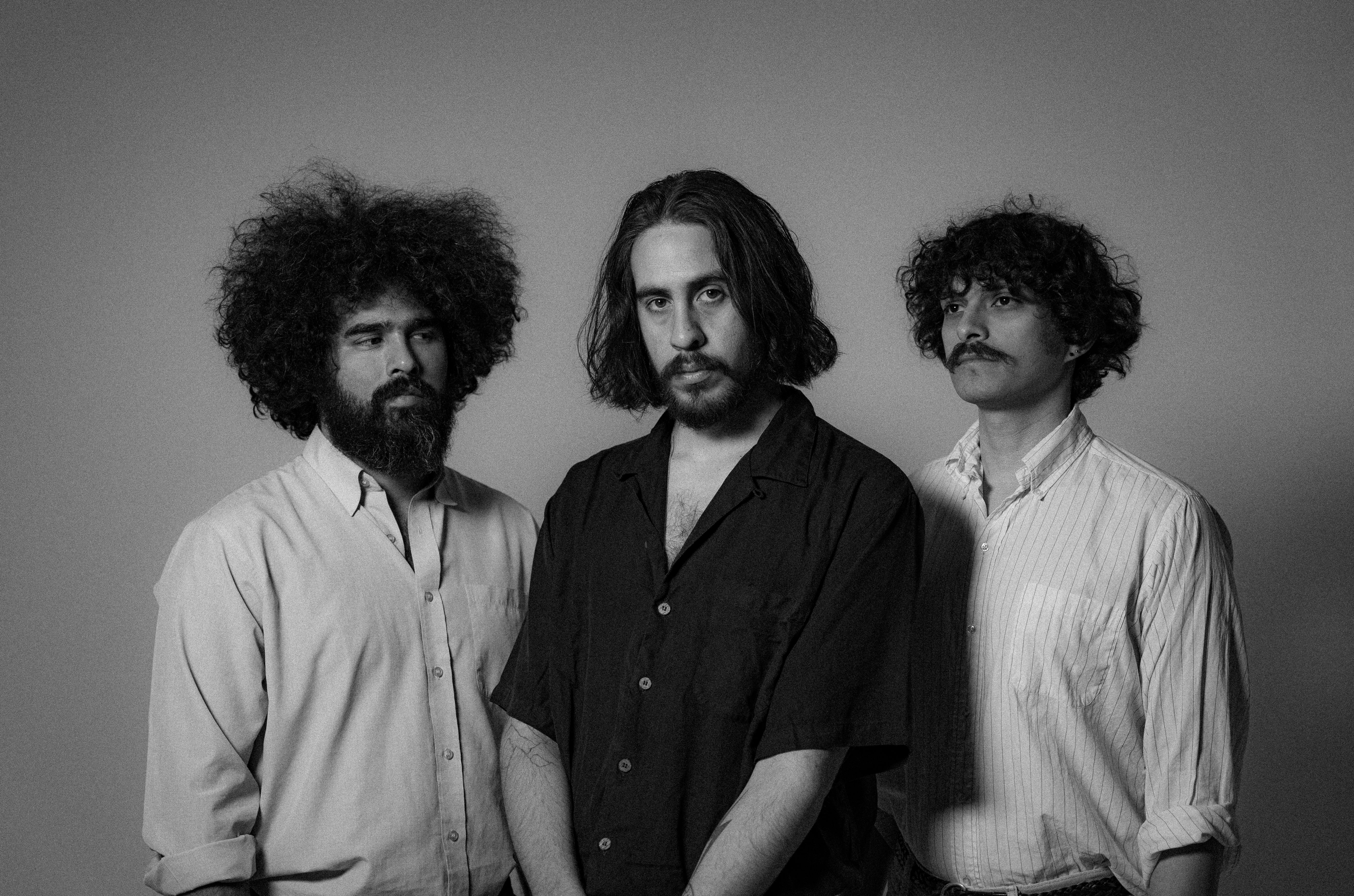 Joudy: Diego Ramirez (vocals/guitar), Gabriel Gavidia (bass) and Hulrich Navas (drums)
A band of Venezuelan refugees formed in youth under the growing shadow of one of the most corrupt authoritarian regimes in modern history and forced to flee their homeland one-by-one at the height of their success, heavy psychedelic-rock outfit Joudy ("Howdy") thought their future had been stolen from them for good. By the mid-2010s the Venezuelan music scene had been obliterated by a falling economy and the band's members dispersed across two continents. Grieving the shattered vision of a life that had once awaited them, cousins and founding members Diego Ramirez (vocals/guitar), Gabriel Gavidia (bass) and Hulrich Navas (drums) set about rebuilding their lives and coming to terms with sudden upheaval, unaware that fate would conspire to reunite them in New York City nearly three years later. Now the band resides in Brooklyn and is working with Bushwick label Trash Casual. We caught up with the band to discuss it all: 
1. How did the band form and what does the band name mean? 
We are a band of cousins originally from Venezuela. As a family, we grew up together sharing the dream of playing music. We started playing together at a young age; we were very close and spent a lot of time together, so it was natural for us. Joudy started around 2007. The name came from a guitar pick that had "Howdy" written on it. We thought it was cool and spelled it phonetically in Spanish. At this point the name has taken on a different meaning, I like to think of it like the mystical character from Twin Peaks called Joudy. 
2. How'd you first get into music? Previous musical projects? 
We are from a country where the music that you listen to on the radio is mostly salsa, merengue, and Venezuelan folk music. That's our roots and our culture. However, growing up as kids we were influenced by our older cousins who played us 80'-90's rock, grunge, and heavy metal. It really got our attention because it was an entirely new sound to us. We learned to play our instruments together as teenagers making covers of those songs. 
Initially, we had a punk-grunge band which got us into recording ourselves with a computer microphone that looked like a "Califone AX-12." We started playing with a maxtone guitar, distortion boss DS-1 pedal, and an Ibanez bass with a tube screamer TS9 pedal plugged into our amplifiers that didn't push out more than 25-50 watts. Looking back it's impressive how much we did with that. Joudy was the evolution of all that  after inviting other friends to play with us years later. 
3. First concert that you ever went to? 
We went to a lot of local rock festivals in our hometown growing up. Most of these bands don't even exist anymore, but they really inspired us: Oncepm, Fening, Twamb, Nomeolvides, and a lot more. Locally in New York, the first show I went was King Krule at The Hammerstein Ballroom, Gabriel went to see METZ at Williamsburg Music Hall and Concho went to see one of his favorite bands, Sepultura at Irving Plaza. 
4. What's your song writing process like? 
We start most of our songs by jamming on specific rhythms we feel connected to at the moment. Any one of us will bring something to the table from home, whether it's a little line structure we can mess around with, or we make up something on the spot. We improvise everything and record it so we can produce it after in more detail. I usually improvise all vocal lines and add the lyrics after the fact depending on what the song makes me feel. 
5. What other artists or songs inspire your music? 
Omar Rodriguez Lopez, who's been a member of bands including The Mars Volta, At The Drive In and Bosnian Rainbows, has been a main influence for us since we started to explore music, looking to experiment more with atypical rhythms and structures. Omar definitely pushed my generation beyond our limits. 
Ataxia - changed my life, and basically gave course to Joudy's newest sound. I always loved the feel of this power trio… it's what I like to call "sewer rock," made by legends John Frusciante (Red Hot Chili Peppers), Joe Lally (Fugazi) and Josh Klinghoffer (Dot Hacker). It set an example for us of how to build something simple yet complex: twisted guitars, repetitive bass lines and hypnotizing drum beats. A lot of what Joudy is today. 
Massive Attack - I still remember spending entire afternoons obsessively listening to Massive Attack's discography— Mezzanine and Heligoland were my favorites. There was something in their songs, this dark melancholic mystic energy I felt so attracted to. Their song "Angel" is still one of my favorite songs ever, we even play a cover of it live sometimes, with a sludgy/metal twist. 


6. What's the live experience like and your philosophy on playing live? Do you think the music live should be identical to the recorded version or should it be its own thing? 
Joudy has an explosive, energetic live presence. As musicians, recording and producing music is definitely what gives us the chance to go deeper into our craft, but playing it live is what makes us feel most alive, most excited and connected. There's a lot of improvisation in our live performance, we try to make every Joudy show unique. Live music should be a living version of what is recorded; it's giving life to something that's been trapped into an eternal recorded cycle and we use every show to free the beast from that. 
7. Has the band toured? What has the touring experience been, best shows? Worst shows? 
Yes, we toured in Venezuela between 2012 and 2014 before finding ourselves in the U.S. Here we've had the chance to tour the East Coast a fair bit; our favorite places so far have been Philadelphia, DC, Pittsburg, Miami, Providence and upstate New York. 
The worst show was probably our first un-announced show in Providence, RI. No local bands were on the bill, and the booker ghosted us. Nobody showed up, hah. We really love Providence now though; we're excited to be playing Oktoberfest there later this year. 
The best show so far was in Pittsburg, PA, on tour with Las Nubes. We played with Edhoculi at a sick DIY venue in a residential zone. A lot of people with great energy came out. We can't wait to go back. 
8. What's up next for the band? 
The first video single off of our next album, "Uneasy" (the first since reforming in the U.S.) drops September 9th via Trash Casual Records / Bank Robber Music, the new LP is scheduled for release early next year and we are really looking forward to touring and making it out to the west coast. We also just recently re-released two albums we recorded a while ago back in Venezuela, "La Bestia" and "Obertura," and are hard at work writing the next album.

Produced by WAAH @waahny Directed by Gabriel Gavidia Audio Recorded by Diego Ramirez and Johann Sanchez Audio Mixed by Diego Ramirez Audio Mastered by Brok Mende Filmed by Hana Porter and Johann Sanchez Recorded live at 193 Newel St, Brooklyn, NY 11222 - June 4th, 2022
https://joudyjubanda.bandcamp.com/