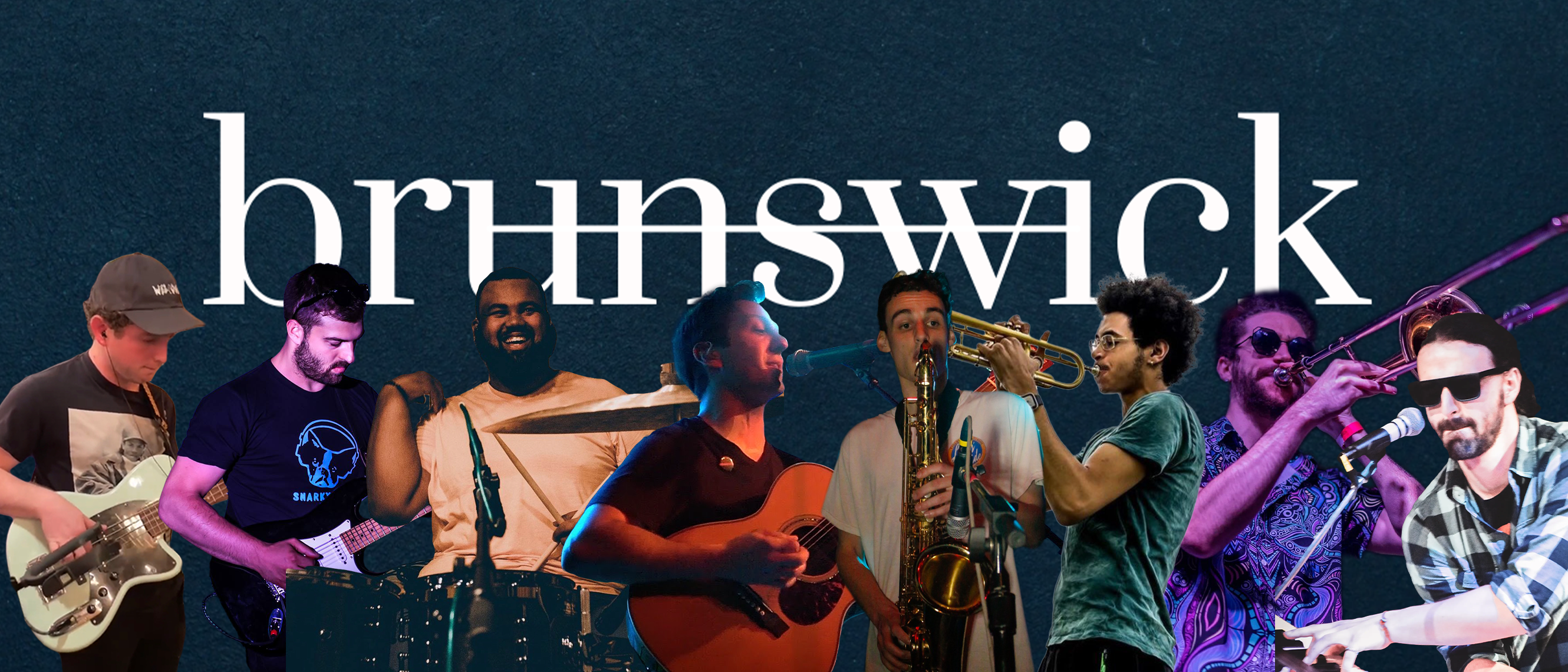 Brunswick from Baltimore, Maryland plays an interesting mix of folk, pop, rock and lots of hints of country, jazz, soul & more. What does this end up sounding like? On some tracks it's like classic Dave Matthews Band or John Mayer and other times it has a more folk spin to it and comes off like Josh Ritter or other contemporary Americana acts. The men behind this project are lead singer and songwriter Marc Cashin and drummer Jamaal Turner, who's other project Underlined Passages (a stellar indie rock band) we've covered before. We had a chance to sit down with both guys to talk about the band! 
1. How did the band form and what does the band name mean?
Marc- It's funny now but I was almost forced into putting a band together. My longtime friend and producer, Stephen Joseph Antonelli really was the one who sat me down and told me to take this further than a simple demo. He really had faith in these songs since day one. Jamaal was my first call because we've been friends for a while and played in a band together previously. He's the only drummer I could ever imagine playing this music with. He really shaped this band and a lot of our music. 
Jamaal- Marc and I were actually on our way to see a concert at Madison Square Garden and driving from Baltimore, you spend most of the trip cutting through Jersey. We were talking about names for the band and really not getting anywhere. Cue, Exit 9 on the New Jersey Turnpike. 
2. Previous musical projects? How'd you first get into music?
Jamaal- My step-father was a really talented drummer and I remember watching him play at church on Sundays, going back home and banging on pots and pans, washing machines, anything really. I grew up playing in churches and traveling the country with the choir. That led to me producing music and playing in a lot of really good bands as I was coming up in the scene.  
Marc- I remember playing a tennis racquet as a young kid and my grandmother buying me my first guitar. I knew that I loved writing songs as a kid but would write just terrible ones with my cousin about basically anything. I was in a few bands in high school, but nothing serious until college. Lived in Nashville for a bit waiting tables and writing. I didn't ever really take it seriously until I moved to Baltimore and that's when Jamaal and I first met. 
3. First concert that you ever went to?
Marc- First big show was Billy Joel and Elton John. I don't even remember how old I was but my parents took me. I know that I was 100% way too young to be there though. I don't think this was my first "local" show but I remember seeing Jimmie's Chicken Shack who are this amazing band from Annapolis, MD when I lived in Nashville. We're actually playing a show with them coming up so it's pretty cool to see that go full circle. 
Jamaal- My first big show was actually the Dave Matthews Band. As a drummer it was definitely something that helped inspire me and still is an influence in my playing with Brunswick. My first local show I remember seeing was with Robert Glasper. He's an amazing pianist and songwriter. He's a really talented player. 
4. What's your writing process like?
 Marc- All of the songs on this record started on my acoustic guitar. It was really nothing fancy. I will usually have the music or a rough structure well ahead of the lyrics and send Jamaal and the guys a demo for their thoughts. From there we are pretty democratic about coming up with parts. We've always tried to be open and make space for everyone to give input on where they think a song should go or what a part should be but whoever is playing that party typically has the final say in what ends up on the record.  
Jamaal- This is such an eclectic band I mean we have guys who are trained jazz players, guys who played in big bands, funk bands, rock bands. I think you can definitely hear some standouts though. 
5. What other artists or songs inspire your music?


6. What's the live experience like and your philosophy on playing live?
Marc- I think our live show is really where we enjoy ourselves the most. Making records is fun but there's nothing like the feeling of playing music live and having that connection with everyone on stage and everyone in the audience. I've always tried to think, ok, if this is the first time someone has ever seen or heard us, what would make them want to come back and see us again? We really try to give it everything to make sure we put on a good show.  
Jamaal- Each person in this band is so good at what they do and we definitely leave space for the guys to experiment live and try new things. You won't hear the same song played the same way night after night. That's what's kind of cool. The record is going to be its thing but even if you hear a song live on one day, there will be something new the next time we play it. It's a testament to the musical ability that these guys have.  
 7. Has the band toured? What has the touring experience been? Any good stories?
Jamaal- We're out there now promoting this first record and we'll be announcing some more dates soon for a Fall/Winter run up the East Coast. Touring is definitely a unique experience though. I remember one time when Marc and I were in a band before Brunswick, we were all in the van driving back to Maryland from a gig at the South by Southwest festival in Austin, TX. Our guitar player at the time was a big fan of Coldplay. It must have been 2 or 3 am and we've been driving literally since the gig ended at 9 pm the previous night. Fed, our guitar player was driving and thought it would be a good idea to play Fix You by Coldplay, and if Coldplay sees this, it's a great song by the way. It's just maybe not the best for 3 am on zero sleep. We all wake up to Fed screaming, the sounds of rumble strips, and the van screeching back into the lane about half an inch from the guardrail on some Texas highway. We never let him drive the van again. 
8. What's up next for the band?
Jamaal- We're excited to be promoting this record and seeing how these songs evolve night after night. We're already working on new music and I'm sure we'll be back in the studio soon but for now, we're really enjoying getting to play for people and are excited to get back on the road.