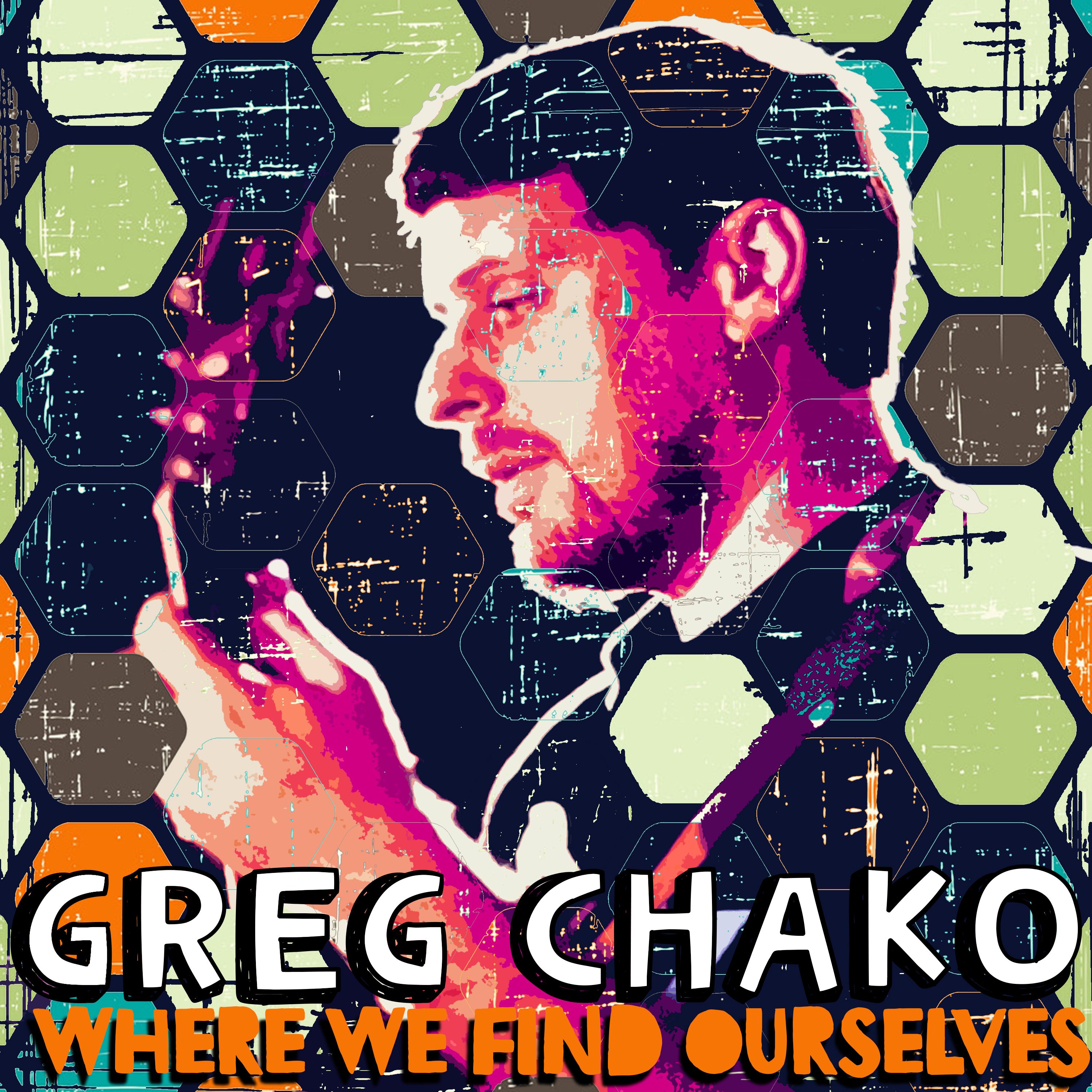 In a pro-career spanning 40 years and 5 countries, Cincinnati-born jazz guitarist Greg Chako has released ten albums and played countless shows around the world. He currently writes a bi-weekly column for BloodMakesNoise but as well he is in the process of re-releasing his entire back catalog and making new albums. We sat down with Greg to talk about the re-release of his 2005 album "Where We Find Ourselves" which comes out on all streaming services on August 12th 2022. 
Where and when was "Where We Find Ourselves" recorded?  
It was done over a weekend in Singapore in 2005 while all of the members including myself were living in Japan. We talked initially about recording in Japan, but it was complicated for me to find the appropriate place and situation there. I'd already developed a successful history and friendship with engineer John Herbert of Lion Studios in Singapore. He had recorded all but one of my previous 5 CDs. I decided to fly us all down to Singapore for what's called a "lock-out," which means that the engineer would open the studio solely to us for the period of time booked. It was quite the adventure, especially for the other members who unlike me, had never been to Singapore before. 
We arrived Friday night, put our instruments into the 2nd floor of the industrial building the studio was located in, and then Saturday and Sunday we came in around 11am and worked until 11pm. By Monday, 
99% of the tracking was complete and most of the members returned home to Japan. I discovered later after the fact that none of them thought it was likely for us to complete it in such a short amount of time . . . my music can be fairly challenging to play, to say the least! 
All songs were first takes, except Wave of Love which we played twice. 
Describe the writing process for this record and the era in your life in which it was written? 
Half the material was written in 2001 after recording Integration, during which my sax player at the time commented that my approach to standards was refreshing, so why didn't I record some? Instead, I chose songs that I liked to solo on and composed new melodies and harmonies for them. Those standard-based tunes laid dormant for a few years until the opportunity to record this album came about in 2005. 
In 2003, after a successful steady gig in China, I went completely off the music scene for over a year while battling my wife's cancer and adjusting to a new, challenging life in Japan. She made the ultimate transition from life as we know it on July 29th, 2004, exactly 4 years (to the day) after our wedding celebration party. The completely original music on this album was composed during her final months and in the months of 2005 leading up to this recording date. Because of that life struggle, this recording was particularly difficult emotionally for me, and physically too, since I had not been playing regularly at all. Without the benefit of regular gigging and practice, I felt "out-of-shape" and self-conscious about my guitar playing, however, I did then and still do now have every confidence in the writing itself. 
Another notable aspect of this album is the inclusion of 2 vocal numbers. I have always enjoyed communication with words, and though I am not a singer, I do feel that lyric writing is a natural, logical development of my creative personality. 
The title, Where We Find Ourselves, has a double meaning. On one hand, being unexpectedly widowed in a foreign country in which I did not know the language and had none of my own blood relatives nearby was where I was physically . . . and on the other hand, going through that painful life experience and then putting this music out was a cathartic method through which I found mySELF emotionally. This album put my music career back on track. 
Where would you say this album ranks among your other work?  
I would say that it is surely at the pinnacle of my recording career to-date. Though as I explained above, I felt self-conscious with regard to my guitar "chops," the fact is, that this was the very first of my albums with 100% all-original material. With 14 songs and a 3-horn front line, it really displays how my ensemble writing and arranging technique had evolved. The work was born out of a tragedy . . . being widowed and not knowing anyone at all initially in Japan . . . yet somehow having the determination and wherewithal to assemble such an impressive array of musicians and record this over a weekend in Singapore, is a testament to the powerful will and emotions that one can hopeful hear on display for themselves as they listen to the music. Perhaps, nobody summed it up better than this reviewer: 
"Talk about a reality check on so many levels.  What kind of balls does it take to record a double album of all original jazz in four days and make it sound like a classic BlueNote, World Pacific or Verve date?  Someone must have grown up eating Rudy Van Gelder sessions for breakfast to absorb this kind of vibe.  Chako straddles being familiar and unique in the same interval with such style that you're sure you've been here before but you know you haven't.  This is simply a delightful heaping helping of cool jazz that moves and grooves and is sure to win you over before the first track is over.  Why is this guy recording for his own label?  You put the machine behind this cat and you could crash Amazon's servers. --Chris Spector, Midwest Record Recap (Review on Where We Find Ourselves)" 
What other artists specifically inspired the playing on this release?  
What inspired the release was the desire to play music again and to record the music that had been written but not yet recorded. As I alluded to earlier, a recording is a sort of cathartic experience in which one can more or less put a particular chapter of one's daily life behind them, like finishing a novel if you're a writer. It's publication enables one to carry on to the new experiences which lie ahead. In the case of Where We Find Ourselves, it was a tribute to my late wife's memory too. 
But with particular regard to the contra-facts on the album, Voyage Down was loosely based on the changes of Steve Swallow's Eiderdown. 
After composing it, I thought that it was also similar to Kenny Barren's Voyage, so I put those two titles together to make my song title. Takachan was based on Johnny Mandel's Emily. Love Goes Fourth was based on George Russel's Ezz-Thetic and to a lesser extent, Eddie Harris' version of Love for Sale. You of All was based on the standard, All of You, and also on Coltrane's Fifth House. Josephine is based on Sam Rivers' Beatrice. It's Only You is based on the standard It's You or No One, and my April Wind is based on I'll Remember April. 


What notable players are on this recording? 
I played often with bassist Mark Tourian and drummer Mark DeRose, both of whom I met on my own in my search for guys to play with in Japan. Funnily, the two of them did not play together often, but I put them together for this recording. Mark is one of the 1st call bassists in Japan and he heads up his own groups too. Both are from New York originally. Mark and I recorded a later album together called Everybody's Got a Name, and he and I did a lot of playing together in Japan, mostly in trio format with a bassist. Mark also overdubbed the percussion parts on this album. 
Andy Bevin and Robbie Belgrade play together in a band called Tatopani. Robbie is American and Andy Australian. Those two were the first I met with the specific purpose of recording this album. After recording Integration in Singapore with Didjeridu, I specifically wanted a reed player who also played the Didjeridu, and I wanted a bass clarinetist too. In my networking efforts, I met a very well known Shakuhachi player named Bruce Huebner over coffee one day, and as I explained my desires, he shared Andy and Robbie's name with me. 
Both Andy and Robbie are multi-instrumentalists and that came in handy since I had Andy play Tenor, Flute, and Didjeridu, and Robbie on Bass Clarinet and Tabla (he plays tenor and piano too BTW). 
The trombone player Pat Hallaran was from New York and he played with the Toshiko Akiyoshi - Lew Tabakin Big Band before moving to Japan. He was not an 'original' member, because the trumpet player who we had planned to join us had to back out at the last minute and Andy and Robbie told me there was a "new" guy in Tokyo who played trombone and why didn't I give him a try? That was a good call to be sure, so I altered the parts and Pat played his you know what off! 
All this started with phone calls and conversation - I'm told it's called "networking!" I remain forever grateful to all the musicians that I met and worked with in Japan. Without their generosity of spirit and passion for music, none of what I accomplished at that time would have been possible. 
What accomplishments do you see yourself achieving in the next five to 10 years?  
I have much more music left in me, including music written and not recorded, plus brand new musical projects in the works. The project I am working now is called, A Place for Bass - Chamber Jazz Duets. It involves my guitar-bass duo compositions with the acoustic bass playing the melodies and/or playing a melodic line in the fashion of a Bach Two-Part Invention. I have an opportunity (through a supporter) and strong desire to go to Miami, Florida to connect with some outstanding players there for a new work I will title, The Miami Project. These are projects that I expect will come to fruition over the next couple years. 
In the next five to ten years, I wish to be doing more touring, performing, and recording; in short, to have achieved a much higher level of professional recognition, production, and success. I wish to more than double my current catalogue of ten albums. I wish to acquire the means (the health and financial freedom) to do what I want where I want. That certainly entails living, or having a base of productions somewhere other than Cincinnati, Ohio, perhaps in Florida, New York, or even abroad, somewhere nearer to the ocean, please! 
Do you have any hobbies or interests outside of music?  
When I lived in Singapore I was an avid scuba-diver. I reached a PADI level just barely shy of Master Diver, and have experienced more than 200 underwater dives in exotic places such as Indonesia, New Caledonia, Australia, The Coral Sea, Malaysia and the Philippines. 
I have always and still do enjoy cooking, and consider myself somewhat of a foodie, and I have some professional training as a chef. 
I have a life-long love affair with culture and communication, and I love a good movie as much as anyone. 
But none of that can really be separated from music. It's interesting that in Balinese culture there is no word for the English word, "music." That is because they believe that music is inseparable from life itself! That about says it all. Without music, there is no life . . . 
What strengths do you have that you believe make you a great musician?  
Well, I have never called myself a great musician. Saying or believing that I would consider to be arrogant and besides, as the Chinese say about being a wise person, "Those who say don't know and those who know don't say." The greatness of any man or woman, I suppose, is the wisdom to have come to know his or her own strengths and weaknesses. I believe being great means being all you can be as an artist and person. It's an individual and internal achievement. 
I do believe there is a direct correlation of one's musical worth to one's value in terms of our character . . . to borrow from the wise words of someone whom I DO consider a great musician, Hazrat Inayat Khan, who said in his book The Mysticism of Music, Sound, and Word, The Sufi Message Volume II the following: 
"...the power of music depends on the grade of spiritual evolution that person has touched… "The effect of music depends not only on proficiency, but also on the evolution of the performer…" 
& 
"Man`s state of mind can be read by his touch upon any instrument; for however great an expert he may be, he cannot produce by mere skill, without a developed feeling within himself, the grace and beauty which appeal to the heart." 
With those words in mind, I believe one's musical success has as much to do with confidence in oneself, honesty, the willingness to listen well, humility and equanimity of mind, as it does with any particular skill. 
Do you have any weaknesses that you're actively working to improve on? 
Of course: patience, discipline, acceptance, and empathy. 
At 64 years of age, life can seem to me to be a never-ending struggle to simply get better organized! With the advent of the digital age, 'ole farts' like me are constantly challenged to learn more about current technology systems and how to manipulate them for our benefit. 
Case in point, after many years of free use of Sibellius 6 music notation software, which I won in a song-writing contest more than 25 years ago, a necessary upgrade of my i-MAC computer inadvertently wrecked havoc to my musical activities. Because Sibellius 6 was no longer supported by my new computer, I was forced to buy an expensive license for a newer Sibellius program, and I don't know how to use the new one! It can seem to me that we have more and more technology and less and less freedom to do what we really want to do. Dealing with a learning curve and the frustration which can accompany it is an exercise of my patience, discipline, and acceptance, the very first 3 things I mentioned above.
Enjoy this live video of the track "Wave Of Love" from the era when this was recorded: