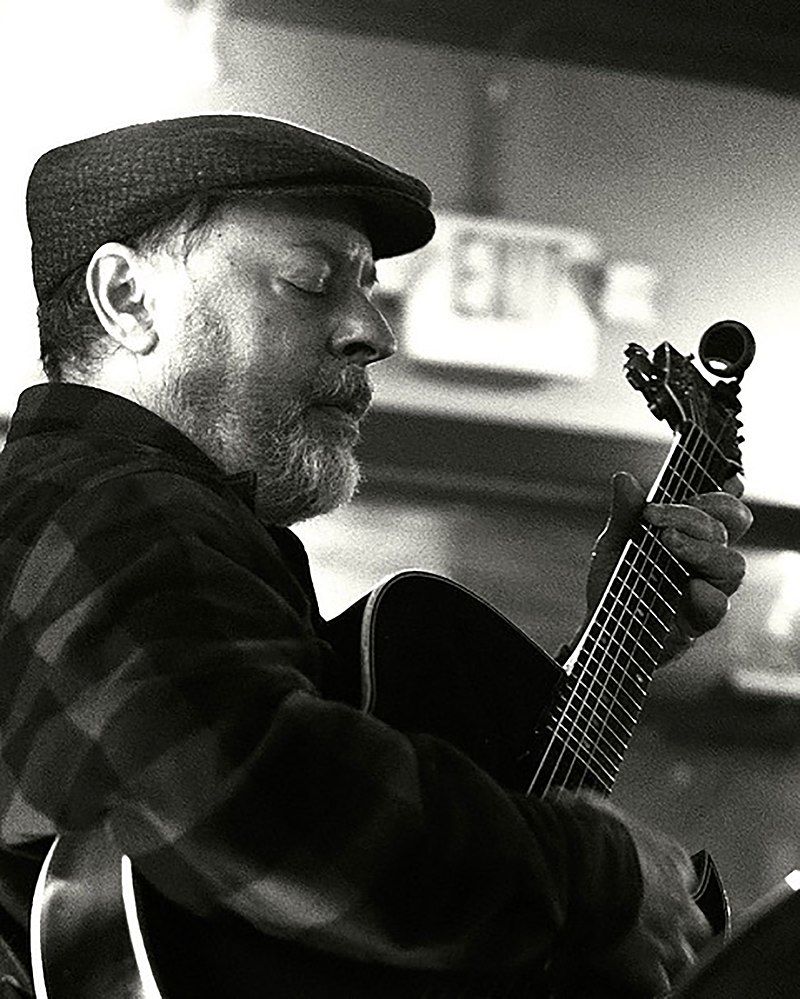 In a pro career spanning 35 years and five countries, Cincinnati-born jazz guitarist Greg Chako has released ten albums. His most prolific period to-date as a recording and performance artist occurred while he lived in the Far East for 17 years, where he evolved into a masterful, expressive composer with rich story telling abilities. Coming on July 8th is the re-release of one of the highlights of Greg's excellent catalog "Sudden Impact". We caught up with Greg to chat about the album and get details on how this classic was constructed: 
Where in your career were you when Sudden Impact was originally released in 1996? 
In 1994, I moved from Hong Kong to the tropical island Republic of Singapore. I began leading a trio six nights a week at Raffles Hotels' Bar and Billiard Room in October of 1995. When I recorded Sudden Impact in 1996, my career was in its beginning stages, because I had only recently begun playing nightly, and Sudden Impact was only my 2nd album. I went on in later years to play and record even more frequently. But, this album is very significant for two reasons I believe:  
First, up to that point in time I played only standards and covers. Sudden Impact introduced four of my original compositions. It also displayed some of my arranging skill. Reviewers complemented not only my originals, but also said I "spiced up" old standbys with a "refreshing twist." One called my re-read of the pop classic, People, the "jewel to Sudden Impact's crown," and I did employ some original effective re-harmonizations on that one.  
I just recorded them the way we playing them live, but the positive feedback I got after the fact fostered within me a greater sense of confidence in my song-writing and arranging abilities, and that confidence (the belief in myself) was a necessary pre-requisite for all my musical efforts to follow - it validated and spurred me on with a greater sense of urgency to keep creating, and I did!  
Second, my guitar playing on Sudden Impact represents, in my mind at least, the early establishment of my own style. Reviewers seems to hear it the way I did: "winningly lyrical lines . . . warm, yet incisive guitar . . .  swings compulsively . . . gently flowing lines and occasional bursts of lush chords . . . bright post bebop style" - these are the the kinds of reactions I want to hear.  
Sudden Impact highlights my foundational 'chord-melody' style, and a way to effectively lead a jazz trio in which the guitar takes the place of a piano; and to a large extent, it's the way I sound today if you hear me play live in a duo or trio setting. 
Who was the band on the album and what were some of their accomplishments before working with you?  
There are two drummers on this album. Tama Goh plays on the Latin-flavored songs and was one of my original trio members at the Bar and Billiard Room in Singapore, where we played together nightly for a few years. He's played all over the world in both jazz, pop and classical formats, and is certainly one of the most highly regarded drummers from South East Asia. 
The other drummer performing the rest of the selections on the album is Darryl Ervin, from Chicago USA. He's recorded with Malachi Thomson and the African Brass, the Don Bennett Sextet, Carmel Jones and Lester Bowie, and played with many well-known artists such as Houston Person, Etta Jones, and Freddie Hubbard. Since relocating to Singapore, he is a 1st-call drummer for a wide range of local and regional talents. 
The bassist is Filipino-Singaporean Billy Martinez, who has performed professionally on bass and piano for well over 30 years in the Singapore area, and nightly with my trio for about 3 years. He is a former member of the Radio Television of Singapore Orchestra and the Singaporean Broadcasting Corporation Orchestra. He sings as well, and is affectionately known to peers and local audiences as "Frank Sumatra." 
Pianist and singer Don Gomes has dual citizenship in Australia and Singapore. USA jazz legend Sheila Jordan said Don was, "not far behind the very best in the world," and indeed, he has shared a stage with many greats, such as Johnny Griffin, Herb Ellis, Scott Hamilton and many others. Don was leading his own trio in Singapore when I first arrived there, and he used to let me 'sit-in' with them occasionally, as I went around town trying to figure out who the 'Cats' were. Don was certainly one of them! He also sang and played for me on one track of my Integration album titled "What Happened?" and the other two members of his trio ended up playing with me too, bassist Miguel "Jo Jo" Martinez (my bassist Billy Martinez's son), and drummer Edmond Branson, who replaced Tama Goh in my trio and recorded with me on Integration. Ideally, good players hang with other good players! 
Otrie Barrett Jr. is the son of a military man and he performed for four US presidents and other dignitaries as a member of the Old Guard Fife and Drum Corps before moving to Chicago and playing there with Eldee Young and Isaac "Redd Holt," Ramsey Lewis' former rhythm section. Otrie was playing with them (Young-Holt Unlimited) in Singapore when I arrived there in 1994, and later on, we became roommates. We played together frequently, including his appearance on my Integration album.  
One article noted that your originals particularly Jones-in' and Fried Curry Pies were exceptional songs, what was the inspiration behind those two specifically? 
I deliberately set out to write something in a Wes Montgomery vein. I like the way he employs rhythmic accents and breaks in his compositions. Fried Curry Pies was what I came up with. There's a Wes song titled Fried Pies, and I used that song title with a Singaporean twist by adding the word "curry." The food in Singapore has many Indian-based versions of meat and vegetable pies and they're among my favorite to eat. One of these days I'm going to release an album with only food and drink titles, LOL! 
Jones-in' was very loosely inspired by a Jimmy Heath song titled, "Big P," no doubt written for his brother Percy. Mine is a minor blues with a bridge and a shout chorus. The vernacular meaning of the word is a craving or a strong addictive-like desire for something, and I wanted that described musically by telling my drummer to "give me a 12/8 feel like Elvin Jones would do," and I think he nailed it with a relentless, driving propulsion feel that provided me the perfect backdrop for this guitar-centered feature track. 
Some reviewers have brought up that you playing with your thumb greatly changes the sound you are able to get, how did you start playing with your thumb over, finger picking or using a pick? 
My guitar playing has been interrupted at various times in my life because I've decided to do something else which paid better. While living in Brooklyn, NY in I sold industrial real estate for some years and didn't play at all. When I eventually brushed the dust off my guitar after such a hiatus in the 1990's, I made the conscious decision to play melodically and rhythmically in the style of Wes Montgomery, not at all by copying his playing note for note (because in fact, I've copied nobody else's playing that way), but by trying to develop elements of his sound and supreme phrasing. It made sense to me to play without a pick, without anything coming between my body and the guitar. I also liked the way it felt and sounded. I could get a more percussive attack and a softer, fatter tone. The hard part of that was developing my ability to use my thumb like a pick with both up and down strokes . . . Wes used his thumb almost exclusively for down strokes, but I use it both ways, like a pick. Recently, I read a quote from Joe Pass which said that all the best jazz players play with their fingers (or something like that), so it appears I'm in good company! 
As for finger-picking, I do that also. I was trained on the classical guitar by Edgar Dana at the outset of my musical studies, and in the 1990's while in New York City during my playing hiatus described in the paragraph above, I developed Carpal-Tunnel Syndrome (CTS) by coming back to the guitar with too much rigor. I was introduced to lutenist and classical guitarist Pat O'Brien by Dorothy Taubman, and he worked with me solely to heal the CTS. However, just being around this great teacher and player inspired me to study classical guitar again and I did so.  
(for those interested in learning more about Pat O'Brien's amazing healing work with CTS, go to: https://gregchako.com/educator And scroll down to the link with his name for a PDF)   
I explain all this because though I play jazz, my classical training gave me important foundational knowledge about finger-picking technique. I will sometimes use my fingers to pluck the strings either all at once as a chord, or one at a time as an arpeggio. Classical players use only their index, middle and ring fingers for chords, but I also employ my pinky. That way, with my thumb plucking the lowest bass note, I can play a 5-note chord and I do that often. A 6-note chord requires strumming with my thumb. The point is that due to my background training, I now have the option of using either my thumb or any and all of my fingers at any time, but for single-note lines, I usually use just the thumb. 
What would you compare Sudden Impact to if you had to name a few classic albums that inspired it? 
I cannot do that because it was not inspired by any particular album at all. What it was inspired by was:  
the breadth of music I had listened to up to that point  
the context of my professional and cultural life at the time, namely working regularly in Singapore leading a guitar trio  
the burning desire in me to have a historical record of my efforts towards the achievement of my own original musical voice  
Each album I make is similar to a new chapter of a book (the book representing my whole life), and each chapter represents the unique circumstances (time, place, context) that I find myself in at the time of its conception. In my attempt to attain the ultimate goal of possessing a complete, fully matured and wholly "individual" musical style, finishing an album puts a particular "chapter" of my life behind me . . . been there, done that . . .  An album completion encourages me to move forward to create again. It's a cathartic release, opening up new opportunities to musically express more of what's inside me. One of the best parts of recording my music is the knowledge that nobody can ever take away what I've accomplished with releasing an album - it's a gift (to myself) that keeps on giving!  
How much of the Sudden Impact album do you play with your current lineup? 
All of them except Sudden Impact, Jones-in' and People. Much of the repertoire I play now is determined solely by the format required of the gig itself; since the bulk of my gigs are duo with bass, or small ensembles with a theme (such as Latin/Bossa-Nova), much of my recorded works that require a larger group or some rehearsal are not played anymore. Most of the material on Sudden Impact are jazz standards or originals in a trio format, so I can play songs like Sussy's Song, Fried Curry Pies, Gone With the Wind, You Don't Know What Love Is, and I Remember You easily. I love all the songs on this album, but the five mentioned above are the ones played most often these days. But this interview has reminded me to resurrect People into my current repertoire!