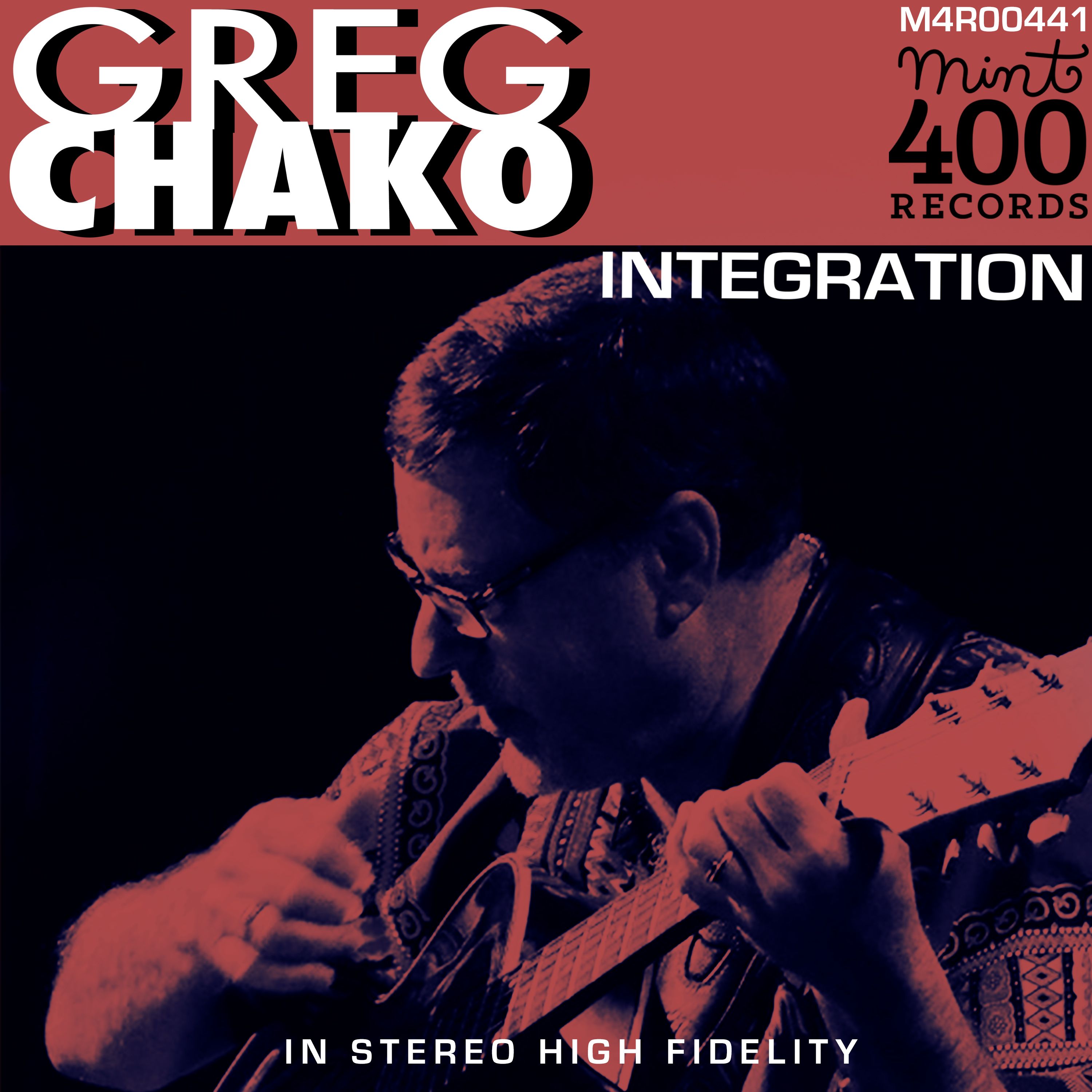 In a pro career spanning 35 years and five countries, Cincinnati-born jazz guitarist Greg Chako has released ten albums and been the subject of a documentary called, "An American Cat in the Lion City." His most prolific period to-date as a recording and performance artist occurred while he lived in the Far East for 17 years, where he evolved into a masterful, expressive composer with rich story telling abilities. His varied arrangements and 50 recorded original compositions merge Mainstream, Hard Bop, Latin & World instrumental music. His music has spent time on the Jazzweek, College Radio Charts and RMR Jazz Charts, including multiple Top Ten spots, and has consistently received critical acclaim from the Jazz community. 
Recently Chako was signed by New Jersey label Raining Music which is a jazz subsidiary of Mint 400 Records. For a large part of the streaming era of music most of Chako's catalog remained unavailable. On April 8th, 2022 Raining Music begins re-releasing Chako's full catalog along with new albums that are being recorded at this very moment. The first album up is Integration, which originally was released as 2 volumes which are now collected into one release. Here we give you track one of Integration, "Coming Home":
We were able to catch up with Chako and grab a short interview as he prepares for his release to drop this Friday: 
What do you like most about playing music and specifically about the guitar as opposed to other instruments? 
The short answer is: Because it's FUN! But there are other reasons too: 
Music is like medicine; it has the power to heal and to effect change, both emotional and physical. I feel that playing, and particularly performing in a group in front of a receptive audience, is a sort of therapy, which can raise the consciousness of both listener and player alike. When playing well, we are literally "in the moment," and our mind is in a hard-to-describe "blank" state where all past and future merge at once through the creative process. Those moments can be fleeting and far and few between, but the feeling one gets from experiencing them is addictive, so I suppose one could say I'm addicted to playing music!  
While the performance scenario I attempted to describe above is one aspect, I also enjoy composing and teaching music. Composing and arranging allows me to put all the theoretical knowledge I've accumulated over the years into practice; and little makes me more proud than knowing I've written a good song or arrangement that nobody else on Earth created but me.  
My mother was a career teacher, but only after I started teaching regularly did I begin to appreciate how noble a profession it is; how much I can learn from my students; and how vital it is to have empathy and consideration for the students' needs, what can be called Student-Centered Learning.  
Taking these 3 aspects on the whole, performance, composing, and teaching, it could be said that being a professional musician is a form of selfless service at times. And it feels good to do something impactful and meaningful for others, while also being something that I love and am passionate about.
What inspired you to start playing and making music and have you ever worked outside the jazz genre? 
I think what inspired me to play music was listening to music and my mother asking me if I would like to take instrument lessons. Stupidly as a kid, I thought piano was for sissy's, and that was a big mistake on my part of course. I wanted to play drums, but my step-father was not having that. I had heard a Jimi Hendrix record and I thought he was very cool, so I chose guitar. I played in rock bands, and came into jazz through the back door, so to speak, from rock (Black Sabbath, Led Zeppelin, Deep Purple) to classical rock (Genesis, YES, King Crimson) to Jazz-Rock Fusion (Chick Corea, Mahavishnu Orchestra) and finally to jazz like Oscar Peterson/Ray Brown/Herb Ellis. It was not lost on me that the guitar was featured prominently in all these genres. When I found Wes Montgomery via Charlie Christian, I had found my home. 
I have played Hip-Hop Reggae, Classic Rock (though mostly on bass), Classical solo guitar, and a little R&B/Funk. I have also played a few Broadway shows. I love Stevie Ray & Hendrix, but I do not play anything like that. If the music is blues or funk based, I can probably play it well enough to get paid. I imagine that if I could play electric bass for one of the rock/pop/funk/blues touring bands, I'd absolutely love it! But I'm somewhat of an "old dog" now, and I stand out in a crowd among those in the jazz genre. That does not, by any means, say that I'm the least bit stuck-up about jazz music - I love good music - irrespective of genre. It it wise for me to know what I am and am not good at, and never to look down in any way on other styles and genres. Good players and good musicians are just that, whether they play Bluegrass, Pop, or Jazz . . .  
Describe your creative process when you write new music: 
Usually, there's an inspiration, a place or a person, or an experience. It all begins in my imagination. Before I can write it or play it, I must imagine it. Some of the titles on my first release with Raining Music (Integration) mention the locations or experiences that inspired the song. For instance, "Tokong Burung - Nazri's Place": that means Island of the Birds in Malay, and Nazri is the lithe scuba diving guide who brought us to that pristine, little visited dive location, where local villagers seek prized bird eggs; "Coming Home" was inspired by my first trip back to the USA after 7 years in Asia, as I drove across the Verrazano Bridge with WBGO blasting . . . etc. All of the songs I wrote for Integration have meaning associated with a place, person or an experience. Usually, I imagine the melody/rhythm before I fix the chord changes, and I have an idea of whether or not it's going to be a ballad, uptempo, blues, or waltz.  
Who's your ideal musician to collaborate with and why? 
The ideal is not a person as much as it is a character. They are supremely committed to the art form and accomplished players yet, their ego is not a problem. My Guru has said (or so I'm told), that "There should be no musician in the music!" What I think that means is that the ego has to be put in its proper place, as opposed to being a stumbling block to the creative process and the music that should be realized through a collaboration. As one might expect, the players with the most experience tend to be the best to play with, because they have learned on the road from Master players like Horace Silver, Art Blakey, Miles Davis, etc. and hence, they know what to do and what not to do. There are such players on my new album, Integration, and it's my opinion that their experience shaped who they are and how they interact with others, in addition to how they play, and those are the types of people I like to collaborate with. 
Are there any musicians who inspire you, new or old? 
All the types of people I described above inspire me. The older great players inspire me because of their total dedication to the art form, their broad life experience, and the dues they paid across the board to achieve their level. Recently, I've had the pleasure of working with a 24 year old collaborator. What the younger people exhibit which inspires me is exactly the same as what the older cats do that inspire me . . . the only difference is that the younger cats have not lived that long a life yet; but they DO exhibit the other character features I admire, the total commitment to their music, the HARD work they do to put themselves where they wanna be, and the good moral character I desire, with their ego in proper check! PS: I'm also inspired by folks who actually return phone calls . . .  
What was your time spent in Singapore like, specifically their jazz scene? 
Singapore was like a dream come true for me, and probably for many others who have not had the privilege of getting paid a fair wage for playing 6 nights a week and more for multiple consecutive years. By the time I got used to not ever having to ever wear a coat for warmth, I was already working in front of live audiences nightly. In order to be successful, I felt I had to be honest, hard-working, and totally committed to (and organized about) what I was was doing. It was a maturation in terms of both music playing, business, and personal relationships. It would be totally wrong for me to suggest that there were not difficulties. I encountered some prejudice (of Foreigners), some "turf wars," and an abrupt encounter with a new culture, one I like to think of as the "Melting Pot" of Asia, like New York City is often called a Melting Pot . . .  
The live music scene was limited, as Singapore is such a small island city/country, but the F&B & tourist business was alive and well, and that is what provided the bulk of venues for live music. There was also a comparatively wealthy local and expat population, which helped provide a market for well paid private and corporate functions. I enjoyed success because I could source and develop the right business relationships, and manage a large number of various musicians working under my company, AND because I treated those I worked with with respect and paid them on time and kept my promises. 
But, to answer the question fully, one would have to discuss the culture and history of one of the most truly unique and exotic places in the entire world! 
Did that time directly contribute to the way your new album Integration sounds? 
Yes. My drummer had an all-percussion group and when some of them came in to hear us, I'd let them sit in. That's how I was introduced to the Didgeridoo. When scuba-diving in the area there, I heard different sounds underwater and I tried to mimic those sounds with the Dideridoo, for instance. The environment one lives in is like a painter's pallet for a composer, and Singapore's diverse island culture, the various sounds, colors, food, people, etc. all contributed to the music I was 
beginning to hear in my head. The title, Integration, also references that, because my Integration and World Beat bands at that time were comprised of Hokkien Chinese, Euro-Asian, African American, Filipino, British, Australian, Malay, Indian, etc. members, a true multi-cultural mix of people all coming together under my post-bebop & Mainstream roots, creating what reviewers called a "new style  . . . looking the future in the eye!" 
When writing the material that became "Integration" how did it differ from your previous albums?  
Prior to Integration, I was recording mostly standards in smaller groups such as a trio or quartet. As my living environment began to influence my creative persona, and at the same time, as I grew in confidence as a composer, I began hearing sounds in my head that required more instruments to express my new feelings. Hence, Integration was my very first album with virtually 100% all-original material, and with a larger format. The only 'standard' I performed on Integration was Poinciana, but even with that, I arranged it in a completely unique way. Integration became a big step forward and a statement by Greg Chako, the composer-arranger, as opposed to Greg Chako the jazz guitarist. 
You are working on new material, your first album in a few years, how has that been compared to these older recordings you are now releasing?  
Well, the answer is simple, and it has to do with my answers to your previous questions about how Singapore effected my my new Integration sounds and how ones living environment and the jazz scene in that place effects my music. Sadly, I am no longer living in a unique, 'melting-pot' tropical island culture with a host of local musicians 'hungry' for new experiences - I am in Cincinnati Ohio! 'nuff said . . . no seriously, we as musicians must learn to create and work with what we have. The Midwest is known for its' organ groups and I take advantage of that on my newest work . . . additionally, one of my collaborators is sax man and vocalist, Brooks Giles, and we met when we were both playing across the street from each other in Singapore over 20 years ago - so he and I have shared some of the same experiences of performing all over the world.  
I was in Cincinnati during the worst (I hope) of Covid, and the way I dealt with being at home all the time with no gigs was to compose. Much of the material I wrote was for solo guitar and guitar/bass duet, but I also composed 11 songs for two guitars and rhythm section. Once I finish work on the next two albums, I've got a producer in Miami, Florida, who is keen to produce a new release I've already begun composing for, to be titled: "The Miami Project." There are truly 'killer' players down there, and for sure, I intend to take full advantage of that opportunity next year featuring those 'monster' players and that exotic environment to create a new album with an obvious Latin-Jazz twinge! 
At times, we need to be able to 'create in a vacuum.' But, I am doing my best to spread my wings now, interact with increasingly younger players who DO show their hunger and dedication to the music, and actively put my energies into composing and working with like-minded individuals to keep the spark alive and well - we must all keep moving FORWARD and I feel that my career is on the upswing! 
For more about Greg Chako please visit: 
gregchako.com
facebook
youtube
instagram
mint400records.com
 
- Sam Lowry